I love living in East Texas during the summertime. There are several things that we do pretty much every single year. One of them is getting fresh crawfish, straight out of the pond, from the crawfish farm in Frankston. Another is berry picking. There are several berry farms around East Texas that have blueberries and blackberries available for you to pick your own, and when is the last time you went berry picking? It's not about the price of the berries because I don't really know that you save any money. It's about the experience of wandering through the rows and rows of berries in the early morning, with the dew still on the ground, and seeing beautifully delicious berries everywhere. You pick a while, you eat a while, and you pick some more. The baskets are peck baskets, and you would be surprised how long it takes to fill one up. We usually stay until one of three things happen: 1) I have filled up all the baskets I have money for, since it's Cash Only, 2) I get so hot that I can't stay out there anymore, or 3) I see a snake. Whichever comes first, that's when I call it a day.


Yesterday I had to drop off two puppies at the vet to get a little "work" done, and since we were in Athens anyhow we decided to travel on East to Larue and pick some blueberries at The Blueberry Basket, a farm I've been going to for over a decade. I took my trusty sidekick Libby along with me because I thought she would enjoy the outing. When we got there, the place was deserted. There was only one family there. I went inside and asked the man running the store about picking berries. In his broken English, he directed me to the blackberries instead of blueberries, which was fine by me. So Libby and I took our basket and headed for the blackberry fields.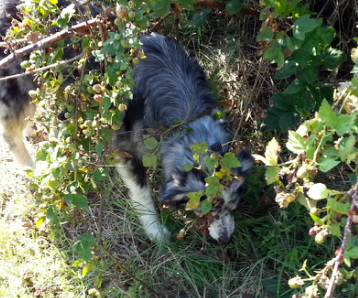 Libby eating berries. Silly dog.
I was so disappointed as I drove past what used to be pristine blueberry orchards and saw that half of the fields are dead and gone. Even the rows of blackberries that remained were horribly kept. Lots of dead canes, the grass hasn't been mowed, and there are tons of weeds growing in the rows. But we did manage to find enough plants with some nice, huge berries to fill a basket. Libby seemed bored at first, but I handed her a big juicy blackberry to try and she actually ate it….and apparently liked it, because then she started her own berry picking. She followed me down the row and was scavenging overripe berries off the ground. And she continued to eat berries the whole time we were out. I got a huge basket full of berries, didn't see any snakes (a miracle, considering how overgrown everything was), and when I paid the man I told him he may want to charge me extra for all the berries Libby ate. He laughed with surprise that a dog would eat blackberries. I paid him the $10 for a peck of berries and we left.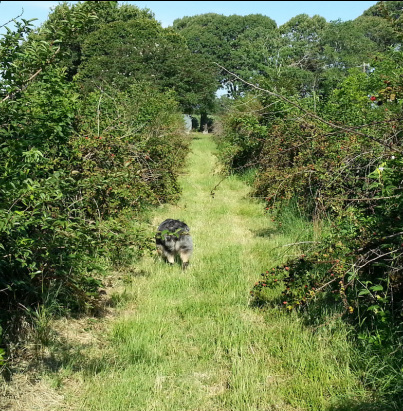 As I said, I have been going to this same farm for over ten years. It used to be a wonderful place to take your family on the weekend, and we went every year. But several years ago I guess the elderly people who ran the farm couldn't keep up with it anymore, and it was sold to a Somalian family. They have not kept the property up whatsoever since they have had it. I would not dare take a child there now. Besides everything I already mentioned, the place is crawling with fire ants. I was even worried about Libby getting into the ants, they were that bad. It's very sad to see this place run into the ground when I know what great potential it has. Hmmm, maybe we should buy it? Plenty of room for a dog rescue. :)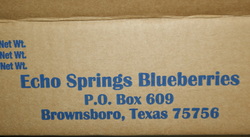 Now back on the road, I am craving blueberries. I had my heart set on blueberries, and although I love my blackberries, it's just not the same. So about that time, Libby and I are cruising down the farm road listening to the local Bluegrass station on the radio and what do you know, they play an advertisement for Echo Springs Blueberry Farm. I know exactly where it is, so from Larue we head north towards Brownsboro and I am already salivating.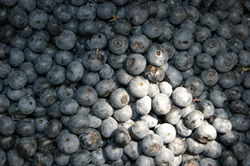 Echo Springs Blueberry Farm is the exact opposite of the farm we just left. Professional, manicured, pristine, and absolutely packed with people, as any good farm should be on a Saturday morning. It is also in the direct sun, so Libby and I opted to buy our berries already picked. I went in the store and walked around and looked at all of the baked goods for sale, the jams and jellies, and the flavored coffees. Somehow, all I wanted were berries, and a lot of them. I looked at their price list, and asked for a flat of berries for $35. The sweet young girl who waited on me said, "You know, the 10 pound box is really a better deal. It's $30 for ten pounds, and the flat is only about 9 pounds and it's $35." Aaahhh, honesty. How refreshing! I thanked her and said we would take the 10 pound box. After a small wait, another very nice young lady came out with our box of berries but didn't just hand them to me. She set the box on the counter and opened it and said, "Why don't you try your berries." I did, and almost went into a coma of delight. Like nothing else, oh how I love the taste of fresh blueberries. We closed the box and I checked out, and then the girl asked if she could carry the box to my vehicle for me. What customer service! Since they were extremely busy I told her I would carry it and she could help someone else. Now, you don't get the same price for picked berries as you do if you pick them yourself, but considering I got about 8-10 quarts of blueberries for $30 and didn't have to be in the sun for an hour sweating like crazy, it was well worth the money. I took our box of berries, put them in the truck and showed Libby what we had, and I think I may have actually been giggling as we left.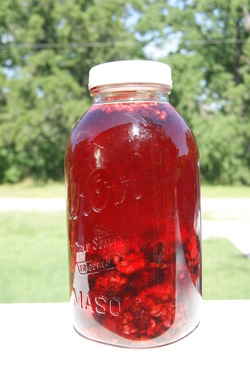 When I got home, Mark was so excited he met me at the truck saying "What did we get?" He knows berries mean I'm going to cook, and it just so happens that he loves to eat. When I told him he was getting a cobbler, he took my face in his hands and gave me a teary "I love you." I know how to make my baby happy.

The first thing I did was rinse the blackberries and put a couple of handfuls of them into a jar, fill it with vinegar, and set it in the sun to make Blackberry Vinegar. I do this with some berries every year because it makes the very best Blackberry Vinaigrette salad dressing and it's easy. After it steeps, strain the liquid and the vinegar will keep for quite a while.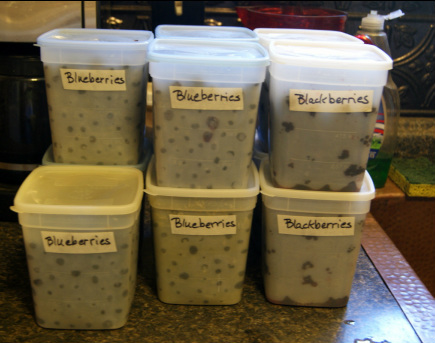 I rinsed all of the remaining berries, and got several quarts—5 quarts of blackberries, and 8 quarts of blueberries. I am not sure at this point what all I am going to make, but I know I'm making my best cobbler recipe ever, which is Blackberry-Blueberry Cobbler Supreme. This is the best recipe I've ever made and it is cobbler the way I like it.

OK, a little discussion about cobblers. Why do they all have to be so different? When you order "cobbler" from a restaurant you never know what kind you are getting. Some people's cobbler isn't much more than a berry filling with some biscuit-type dough on the top. That's not enough for me, I need more. I am happier with a cobbler that has both a bottom and a top crust, but my favorite type of cobbler is the type in which the dough rises up and surrounds the berries similar to a cake. And that is what this recipe is. I hope you enjoy it as much as we do!

Blackberry-Blueberry Cobbler Supreme

1 cup all-purpose flour
1 cup whole wheat flour
2 teaspoons baking powder
¼ teaspoon salt
½ cup margarine or butter, softened
1 cup sugar
¾ cup milk
2 cups blackberries
1 cup blueberries
½ to ¾ cups sugar
2 cups grape juice or water

Directions:

In a medium mixing bowl stir together all-purpose flour, whole wheat flour, baking powder, and salt. Beat margarine or butter and the 1 cup sugar with an electric mixer until fluffy. Add flour mixture alternately with milk. Beat until smooth. Spread batter evenly over the bottom of a greased 13x9x2-inch baking dish.

Sprinkle blackberries and blueberries over batter, then sprinkle with the ½ to ¾ cup sugar, depending on the sweetness of your fruit. Pour grape juice or water over fruit. Unless you have grape juice on hand, water turns out an equally tasty cobbler.

Bake in a 350 degree oven for 40-45 minutes or until a toothpick inserted in cake comes out clean. Some of the fruit should sink toward the bottom as the cake rises to the top. Cool 30 minutes…..OK that's just crazy talk. This cobbler has never lasted that long in our house without being torn into!