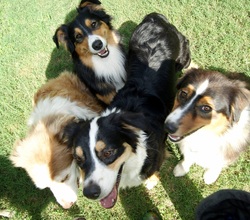 I come home, and everything bursts into excitement. I drive past the house, and they know. They know what my engine sounds like. I see them start as I head down the road, running slowly along the fence and looking to make sure it's me. Then as I get to the first road hump (yes, we have a Hump sign right in front of our house) they know it's Mommy. Oh it's Mommy!! Our favorite time!! So I speed up to about 30 mph and try and give them a good run. This is what they live for every day. So I go down to the community mailboxes, get the mail, and come back. They listen. They know the sounds. As I come back up the road, they are ready. A whole gaggle of dogs, in the corner of the yard, watching and waiting. Now as I pass, it gets really fun. The dogs who are fast are at the end of the yard. And then there's Rocket. Thirteen years old, and he will actually do a little old man sprint along the fence when Mommy gets home. They make me feel very loved.

When I pull into the driveway at the back of the house, the dogs are going wild with barking and excitement. I get out, talk to them, then go into the back door while they run to the front door. Once inside, I am in the laundry room which is separated by a baby gate from at least six overly happy, noisy dogs who have waited all day for this moment. I pet, talk, rub, push, and I make my way into the house. We go get the others, and we all start sharing our stories from the day. Eventually, everyone will settle into their own little corner of the rooms and chill. When it's bedtime, some of the dogs will just gladly walk into their bedtime crates. Some have to be encouraged. But everyone knows where they sleep and it makes them happier to know, to have their own place.

In the morning, I start hearing it around 6:00. Which is absolutely awesome to me, because it used to be 4:00. I don't have to get up as early now that I work from home, so our schedule changed a bit. But, dogs do not have any more patience than I do so they want fed when they get up. I make coffee, unload the dishwasher, check email, and by then they are annoyed. So I feed them.

We have 13 adult dogs and 3 puppies. That's 16 bowls. I fill all of those bowls with kibble, and stack them. I have help from puppies though, because Joe can fit through all of the puppy gates and helps me with everything. So I stack my bowls, push Joe off of the food he's trying to scarf down, and take the bowls to the counter. My counter holds 17 bowls max, I have tested it. We have 16, we should be good. Now the fun part. All bowls get a shot of Salmon Oil. I have a shaker of Missing Link, that goes in Rocket, Justice, Angel, Bonnie (adopted), Libby, and Brody's bowls. All of the dogs who may have joint issues. Next I take the awesome Merrick canned dog food we scored from the Rescue Food Bank and I put a dollop in each bowl. That takes 2 cans. Then I put warm water in each bowl, add probiotics and medicine for any dogs who need it, stir it up, and feed.

Feeding. Sounds simple. Until you have 16 dogs. Rocket and Justice have large bowls and get 1-1/2 cups. Lil, Angel, and Candy get small amounts, because the first two are watching their figures and the third is tiny. That leaves, what? Twelve? Twelve bowls, I think. Because so far I feed the puppies the same as adults, because I want to make sure they get full. They always leave food and the others go eat it. It's a special treat so I'm fine with it. OK, bowls are scooped out, dog food added, water added, stirred up, medicines added, and we're off. First the babies eat. I take 3 bowls to the laundry room for Joe, Nellie, and Liza Jane. They dive in. Take a tower of bowls into the "dog room". Angel runs into her crate and gets fed. Bonnie has run into hers, and gets fed. Stella now will go into a crate, and gets fed. I make Coco go in a crate, because she's new, and she gets fed. No food fights this way. I leave the room and Pete is waiting, and Pete gets fed in the hall. I go back to the kitchen, and Libby gets fed by the gate. Lil knows it's her turn, and she's dancing, and she gets fed. Justice is coming completely off the ground, in an old man kind of jerky dance, and he gets fed as well as Rocket who is being much more dignified about it. From here I go to the living room, and feed Gingersnap who is giving me a little dance. I go to the coffee table, where Laredo is hiding if he's in the house, and slide his food to him while he wags his tail like crazy. Then it was outside to Brody, but now I feed him in the dog room. Oh and Gingersnap often eats in the landing at the bottom of the stairs, because she's a gentle eater and the others can't get her food there.

This is a happy home. I feel lucky to see the kind of love I see. This is nice. Lots of love around you, if you will watch it.