I love to can food. Not only is it a fun craft to do, and yummy to have things instantly ready to eat, but canned goods are beautiful on display. I have actually canned foods simply for home décor before. I just think it is so artful, especially if you have the opportunity to go to the State Fair of Texas and see the prize winners in the canning entries. The way they pack jars takes a lot of experience and talent, and that is what makes the end product so attractive.

I started canning about 20 years ago, and surprisingly I have not killed a single soul yet. I don't know why, though. I never studied the USDA food preparation rules like I should have. I was young and would start to read a recipe and then drift off into "Oh I can do that." Luckily, I have always stuck with water bath canners and acidic products rather than meats, which may be why all my family members survived. My main item to can has always been Salsa, and it always turned out very well without issues. I always add acid, and my jars always ping.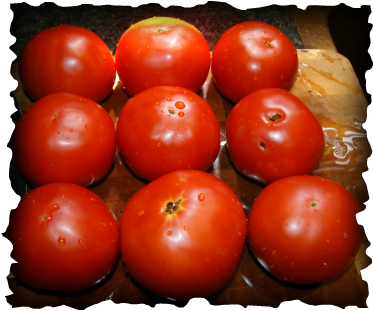 A few weeks ago I joined a canning group on Facebook, and after looking at what everyone else was canning, I got the bug. I wanted to can something. No, that's not true, I felt like I needed to can. There were pictures to be shared, discussions to be started. I could not be left out. They haven't even had an opportunity to see how awesome I am yet. But not having gardened this year, I didn't have anything to can. So I had to buy it. Luckily, I had just recently found a new produce stand in our area, Sugar Acres Produce. The name is cute, the people are good, and the produce is a great quality. The owner happened to be unloading a truck of fresh produce while I was there, so I asked if I could buy a box of tomatoes. He hesitantly told me they were $30 a box. I didn't care, they were gorgeous, and I said I would take them. Then after I mentioned canning, he said, "You know, If you don't mind culls that have some nicks in them, I can bring you boxes of those for $11 a box if you let me know in advance." YES. We will do that, thank you so much. I bought several other things from him, including a 25 pound box of onions, and went home to start my canning weekend.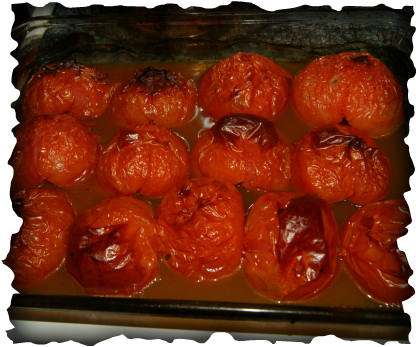 Of course, the first thing to make was Salsa. I love my salsa. And pretty much everyone who has ever had it does as well. That is one of those things that I have been making for so long that I just know how to make it, and don't really have a recipe I go by. Which is funny, because as a Virgo I'm not really a "play it by ear" kind of gal. I need firm details. I was always a little frustrated that my Grandma didn't have a firm recipe for her blackberry cobbler that she could give me, but now I understand. You just sort of, well, see it. You cook by sight, and by smell, and taste. So, there are a few little things I've learned through the years to make my salsa fantastic. One is to take some of my tomatoes and roast them before putting them in the food processor. Let them get good & dark, like a East Texas small town girl on spring break. This also makes a bunch of the juice come out of the tomatoes, which will condense the flavor of the remaining product. Scoop the tomatoes out and put them in the food processor. Turn to ON and let the tomatoes turn into a nice dark red sauce.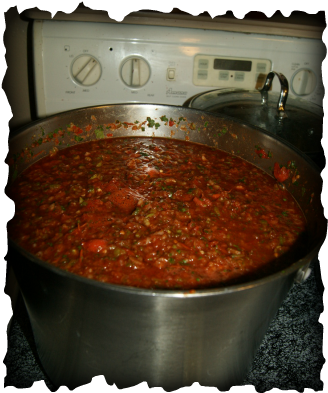 I take the next half of my tomatoes and run them through the food processor, and add them to my salsa. When I start cooking, I have half roasted tomatoes and half fresh tomatoes. I also roast and chop up several other vegetables and add them to my salsa. Once I get everything together, we start the Pot Of Love. It looks and smells so good. It takes a lot of time but it is so cool watching it come together. I truly enjoy making this, and when I make it I make it in huge batches, as you can see. That is a 12 quart pot.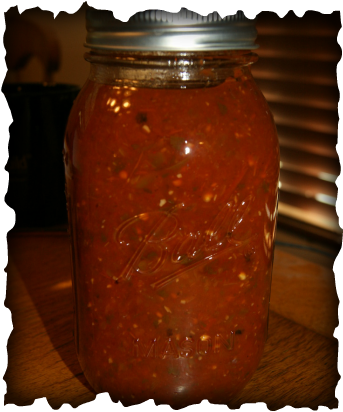 After the Pot of Love has consummated their flavors, the salsa gives a look and aroma that lets me know it's ready. We finish with any final seasonings and jar it up. There are not a lot of things that I would jar in quart jars, because there are only two in our household. But we have no problem finishing quarts of my salsa. I really think that I could probably be elected into office here locally with my salsa. It is that good. I jarred up a few pints as well, for those who beg me for salsa and I have to eventually give them some just to shut them up.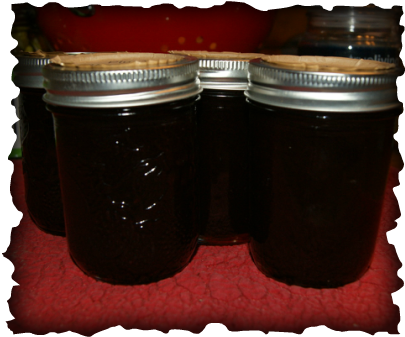 I also have a freezer full of blackberries and blueberries from the farms in East Texas. So, I wanted to make something. Jam. Mmmm, jam. I bought some black plums at the produce stand, and cooked them with some blackberries and made Plum-Blackberry Jam. I didn't use pectin, and it is a little thin but has an amazing flavor.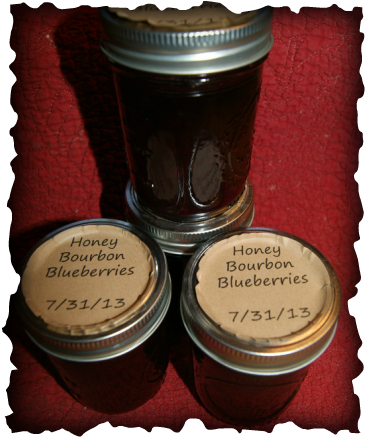 I also made Honey Bourbon Blueberries, and oh my is that a good sauce. We had it on chicken and pork as suggested, and it is wonderful. A bit tart from vinegar, sweet and fresh from the berries, and just a touch of bourbon flavor. This is a keeper recipe, and will make a very nice gift.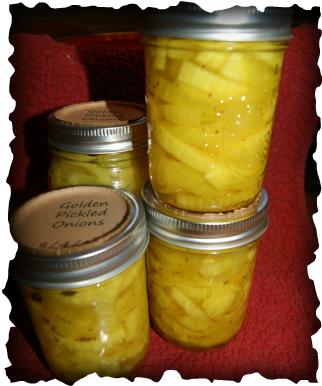 I think my favorite thing to make might be the Golden Pickled Onions. This is by far the easiest recipe, and what I like about them is that they are still crunchy once canned. They have some nice fall spices like allspice and cloves in them and are awesome on a Cuban sandwich.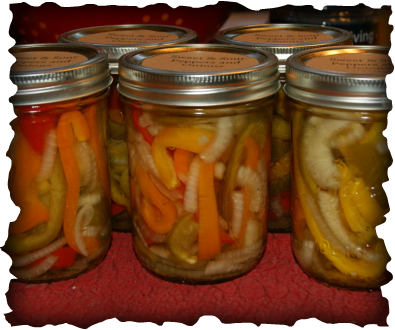 The Sweet & Sour Peppers were also very easy to make, and like the Onions, they are crispy and tart after being canned. These will be good on a sub sandwich, a Po Boy, a Cuban, or any other kind of sandwich you can make up. Yummy treat of a condiment.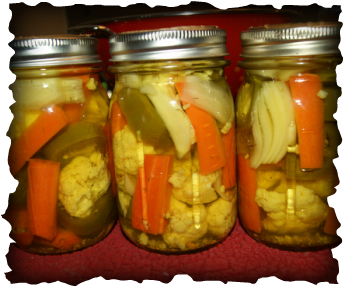 If I were to make two things only, it would be Salsa and this, Hot Pickled Mix. Cauliflower, Onions, Jalapenos, and Carrots. I love this stuff. I like to add okra when I can find it, too. The carrots are so much better in sticks than in round slices, they are just more munchable. The longer you let this sit, the hotter it will become.
This is our canning pantry as of right now. If I can anything else, I have to find somewhere else to keep it. But I sure love seeing it like this.