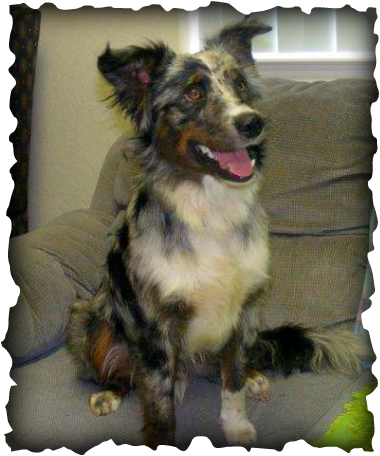 Freddy, an 8 month old Blue Merle Border Collie
We rescued 3 new dogs on 7/29/13 from the Christ-Yoder shelter in Buchanan Dam. They must not get much adoption traffic there, because all three of these dogs are outstanding dogs and I can't imagine why there weren't adopted, especially Freddy, who was at the shelter for a month. I think his energy probably scared adopters away, but once he got here and got some exercise he settled down into a very nice boy. I put all three dogs into quarantine pens before introducing them to the others, just in case they picked up any germs in the shelter. But I let Freddy out after a few days and introduced him to the pack, thinking that since he had been in the shelter for a month he would have already gotten any illnesses that he was exposed to. And, he was becoming kennel crazy in the pen. He needed to run. We let him into the main yard and introduced him to the pack, and after a few scoldings from the female dogs over his overly-amorous ways, he got along very well with everyone, males and females alike. We have never had one problem out of Freddy with other dogs.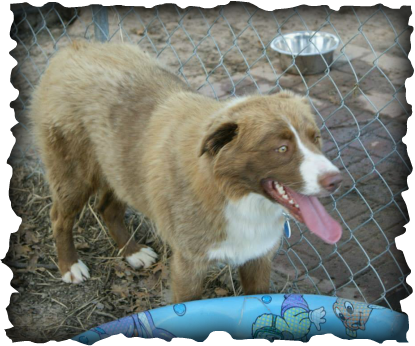 Maria, a 2 yr old Red Bi Aussie
Next I brought Maria into the house. She just seems so….neglected and unloved, and we need to turn that around. Actually, she kind of made the decision for me by jumping the fence of the rescue pen. I saw her walking on the road out back and went out there with a leash. I knew if I tried to chase her she would run, so I just sat down and lowered my head and she came trotting right up to me. I clipped the leash on her and brought her inside, but had to coax her through the doorway. I'm not sure if she's ever been inside before. She was terrified, especially of the other dogs, even the puppies. She spent the first two days huddled in the corner of the laundry room and would snarl and bare her teeth to any dog that approached her. We determined that she was just afraid of other dogs. She is full of burrs and was probably stray for a long time, and I'm sure she was chased and attacked by other dogs a lot while on the loose. Once I started feeding her in the kitchen with the rest of the dogs, she opened right up and slowly, one by one, started making friends with everyone here. She has now been all through the house, has had a nice bath, sleeps in a crate at night, and is just the sweetest and most loving thing you could ask for. She is a real gem, a wonderful girl with a beautiful soft nature.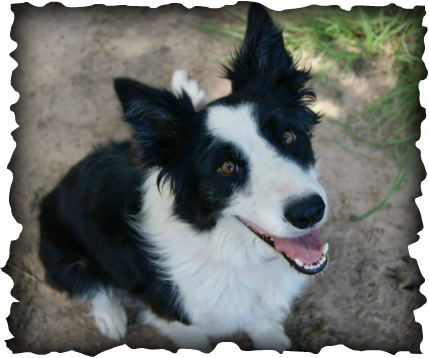 Minnie was a bit of a concern, because while in the quarantine pen she would aggressively charge both of the dogs and I had to separate her. I had her with Maria but she was bullying Maria so badly, and Maria is just too shy to defend herself, that I had to separate them. So I was a bit concerned over how she would do with the other dogs, especially since Lil, Angel, and especially Coco can be very dominant. I was thinking Minnie and Coco would be like oil & water. I know it's a bit early to take Minnie out of quarantine, but I rolled the dice yesterday and let her in the house with us because she needs some seriously socialization if she is to become the great dog that I know she really is. At first, she charges and nips the other dogs and there were a couple of squabbles, mainly between her and Mr. Humpty, Freddy. Girls don't like boys humping their heads, just an FYI, Freddy. We got through yesterday fine, and introduced Coco last and held our breath. A couple of growls, but everything went well. This morning Minnie went into the main yard with everyone for the first time. Minnie did take off after a couple of dogs, but she calls off easily with verbal corrections. She's not hurting them, but she sure wants them to think she will. I think it comes more from a defensive place rather than an aggressive one.

So now we're back in the house, and Minnie has taken to herding the three Border Collie puppies as they play. And she is so typical BC in doing it. She's crouching, she's hiding behind things and creeping, it's pretty funny. She is one step away from playing with them. You can see she wants to. Suddenly, Coco was worried that Minnie was going to hurt the puppies so she ran over and growled Minnie away. I had to call Coco back, but she did make Minnie immediately submit. So maybe Coco's attitude can be useful in all of this after all.

All dogs are inside right now. Stella & Laredo are wrestling on the couch. Rocket, Angel, Tumbleweed, and Gingersnap are lying in the floor around the table napping. Coco is lying in the floor by my side, Maria and Freddy are playing in the dining room, the three BC pups are romping in the living room, and Minnie is dividing her attention between watching the BC pups and watching Maria & Freddy, ready to run in either direction and intervene if needed. Oops, even Minnie could not resist the puppy cuteness—she is now in the floor having a grand romp with Cotton Eyed Joe. J I work from home today, so I'll have all day to monitor their activity and continue to socialize everyone. Maria and Freddy have done great, and Freddy is usually just in the floor beside me when indoors, Not nearly as crazy as I thought he was going to be, he's a really nice boy. Maria is an absolute gem, very sweet and loving and needs someone to spoil her rotten. Minnie has an adoption pending and will be adopted together with Brewski. They have yet to meet because Brewski is still in isolation as he finishes recovering from Parvo, and can be contagious for a while yet. But in the next 1-2 weeks they will be going home to Houston together, and I feel very confident now that they will get along marvelously.

Yay for happy, socialized dogs who all get along together!