We rescued Gingersnap on 12/3/12 from the Ft. Worth, Texas animal shelter where she had been deemed unadoptable due to fear, and would be euthanized the following day if not rescued. To think that a dog would lose its life for being scared broke my heart, so I contacted the shelter and picked her up that day. She did not seem too bad on leash at first, and even went potty for me before getting in the vehicle. She rode quietly in a crate on the way home. When we got home, I put her in the unfinished downstairs bathroom so she would be indoors, but away from the other dogs until we could make sure she was healthy. In her little room, she laid on a dog bed in the corner and didn't move. I would talk to her, pet her, but she would not respond. It was like she was in her own little world. I took her out on leash to do her business, which she did just fine, but then she would trot back into the safety of her room. As the week went on, other dogs in the household would look in on Gingersnap and she seemed to enjoy that. I even saw her wag her tail a bit once or twice. This was encouraging.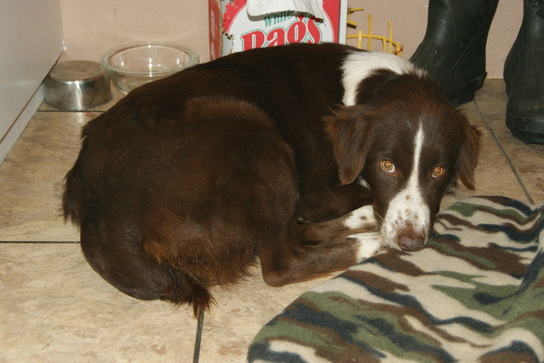 After listening to the excitement coming from the kitchen at breakfast time for a full week, Gingersnap decided that she wanted to join in the excitement and she came into the kitchen to eat with the rest of the dogs for the first time.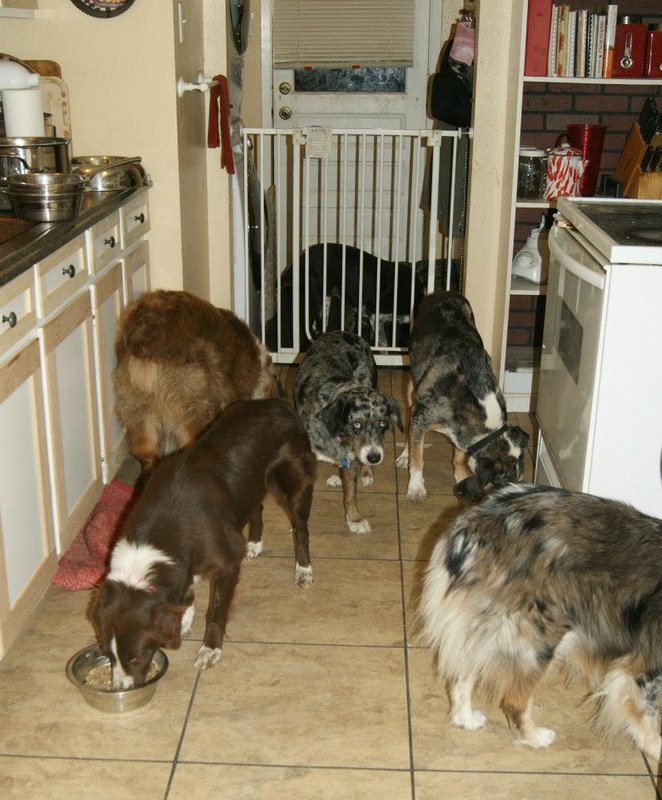 Look who decided to come out of her room and eat breakfast with the pack this morning! I was making breakfast and all of the dogs were talking with excitement, and it must have been more than Gingersnap could resist because she came out of her room, all wiggly and tail wagging, and could not wait to join in the fun. I literally just started crying. This was the best thing ever.

Just as it looked like Gingersnap was making progress in coming out of her shell, she inadvertently got out the back door one night. We called her, we tried to lure her back in with food, everything, but she would not come. She didn't run away—she would stand in the road behind the house and look at us. That was probably the most frustrating part, that she was so close but wouldn't allow me to approach. I tried sitting and tossing treats. I tried talking. I started baiting the yard with bowls of smelly food, like mackerel, and she was regularly eating the food. This went on for at least a week, every day sightings of her and her eating the food but not being able to capture her. One morning when I fed a dog in the quarantine pen just before sunrise, I looked up to see Gingersnap standing there staring at me. I spoke to her, "Come on, baby, I know you're hungry. You want some breakfast?" and she started dancing and bouncing around with excitement. I walked out of the pen into the road with a bowl of food in my hand, and Gingersnap started towards me. YES! I squatted down with the bowl in my hand, and extended it, and Gingersnap started approaching very slowly, and got less than 3 feet away from me……and then turned and ran off. As the days passed, we would even see her lying in our driveway sometimes. She was really putting us through the wringer.


After about 6 days of her being on the loose, I got sedatives from the vet, Acepromazine, to lace some food with, thinking that since she was eating the food we were leaving, we could sedate her and capture her. The vet warned me that this drug will sometimes not work in very fearful or anxious dogs, because the nerve receptors that are needed to uptake the drug are filled with proteins. So it was hit or miss. We put some nice rotisserie chicken out for Gingernsap with at least 50 mg of Ace in it. We watched her eat every single bite. And then we waited. We watched her walk around in the woods behind the house, for the next 30-40 minutes. And she never even got sleepy. It had no effect at all.

Gingersnap had been coming to the bowls we left and eating for over a week now. She was very comfortable living outside the perimeter of the house, but had no desire to run away. She just didn't really know who to trust, but she thought we might be somewhat OK. One day, I saw her in the back yard just at the bottom of the steps of the back porch. I was shocked that she was that close, so I slowly opened the back door and just stood there, frozen. After several minutes, I watched her walk up the steps and onto the back porch. She looked around, and then she came all the way onto the porch, and up onto the stoop of the back door. I could no longer hold my breath, and peeked my head around the corner, and she turned and left. DARN! Why did I do that? She probably would have walked into the house if I had remained still. Darn .


Gingersnap had been loose for 11 days when Mark decided to use some East Texas ingenuity. Since we didn't have a live trap that was big enough for Gingersnap at that time, Mark decided instead to rig up a booby trap in the garden to capture her. We had her eating from the bowls of food we were putting out on a regular basis, so we started putting out multiple bowls and getting them closer and closer into the garden, to eventually lure her into the garden. Mark then ran a rope from the garden gate up through the trees, and into our bedroom window. We went upstairs and staked out our mission, and waited for Gingersnap to come along. The first day, we watched her come all the way into the garden. She got almost close enough for Mark to pull the string, but then she turned and looked at the string, and darted out. This dog is very smart and I don't know how she ended up in a shelter in the first place. So the next day, we baited all of our bowls again and waited.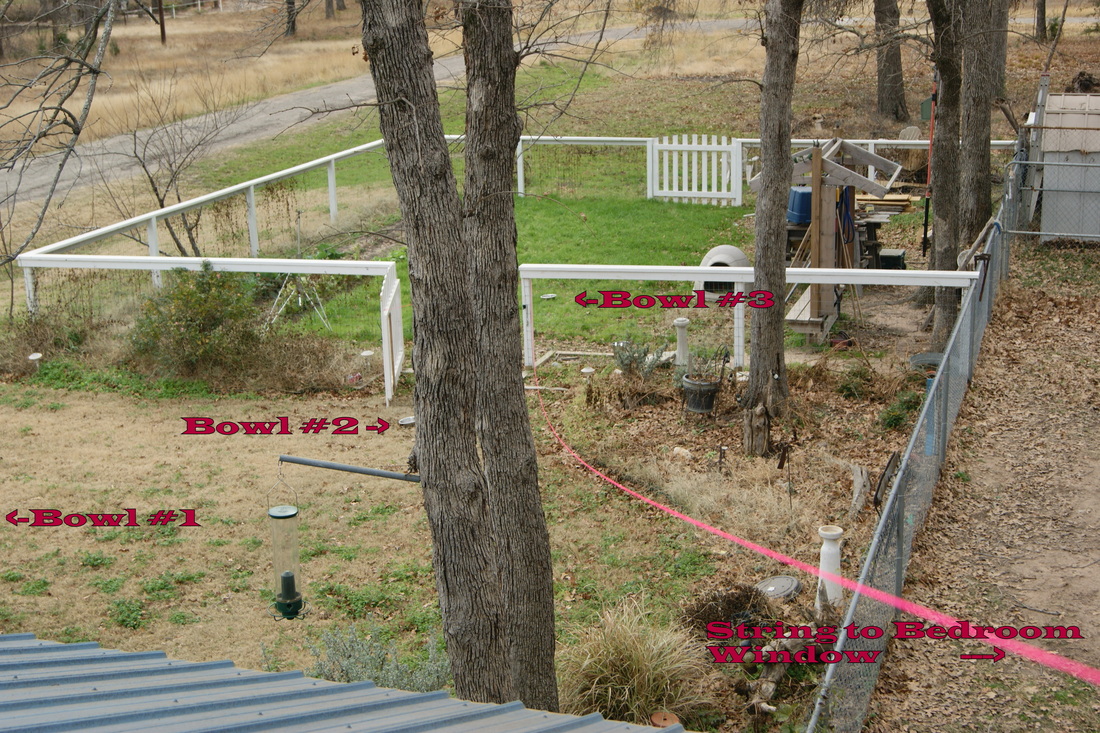 Gingersnap had been out for 13 days now, and it was December and almost Christmas. We were having a mild winter, but I still didn't want any dogs out on their own in weather. And I could tell she wanted to come back in, she had already shown us she did. And I was worried sick about her. So we again baited our bowls and staggered them up to, and into, the garden. We had a mixture of rotisserie chicken and mackerel in the bowls, with a touch of kibble, and just enough to get her interest but not fill her up. She liked to eat early in the day, so we baited the bowls in the morning and ran upstairs to watch. Along came Gingersnap, right on cue, and she ate from one bowl and then the next, and went fully into the garden this time. Mark yanked on the cord as hard as he could, the gate swung shut, and POW, Gingersnap was caught! She immediately turned around, saw she was captured, and just sunk. Mark shouted, "Honey, go get your dog!!!" and I grabbed a leash and ran outside crying and got my baby girl after 13 long days. She just slinked down and let me put the leash on her while I cried, "Come on, Gingersnap, let's go home baby. That was too much time to be gone. Let's go home."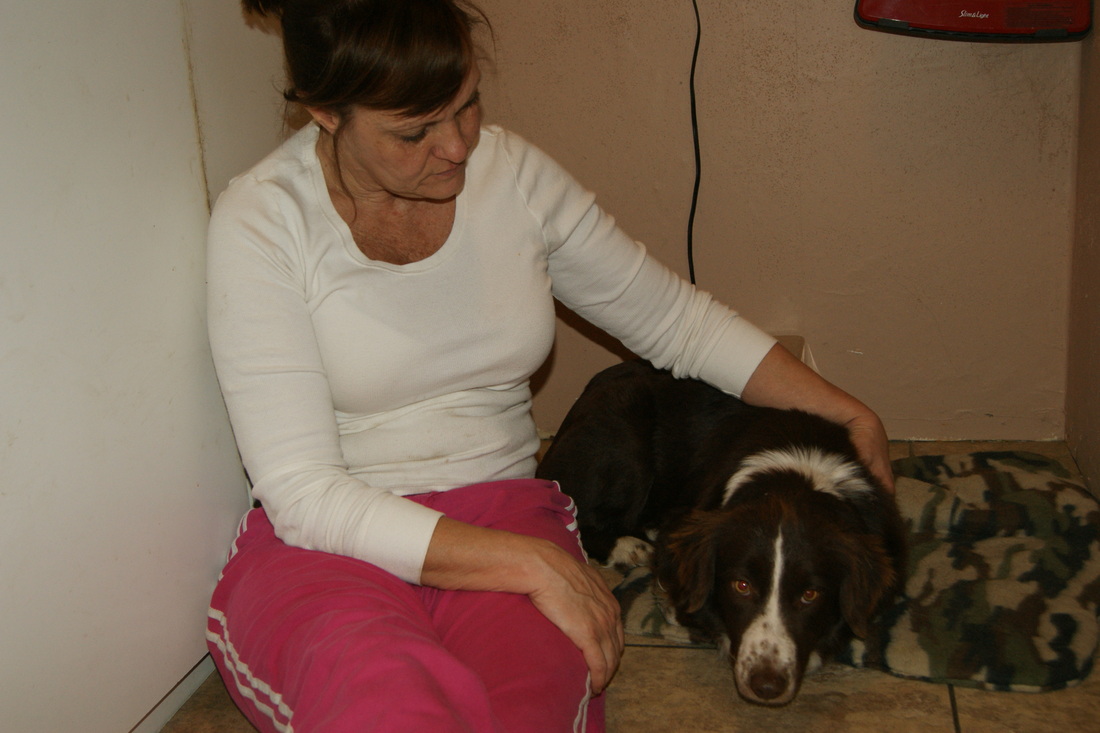 LOOK WHO'S HOME! Caught today, 12/23/12, 12 days after escaping.

After that, Gingersnap was a different girl. She immediately blended into the pack of dogs here, and you could tell she felt like she was at home. She started going in and out of doors with the other dogs, and started going upstairs. She did like to find her quiet out-of-the-way spots to lay, but was happy to play with other dogs and ate in the kitchen with everyone every day. Gingersnap had a chance to see what it feels like to live *out there*, and to live *in here*, and I think indoors wins out. She is a very gentle hearted dog, quiet and mild mannered, and was just happy to have dog friends. She was especially fond of Rocket, and would wiggle up to him trying to get his attention. He acted like he was annoyed by it, but I know he was flattered. They courted like that all the time. No other dog would do—only Rocket. Gingersnap adored Rocket.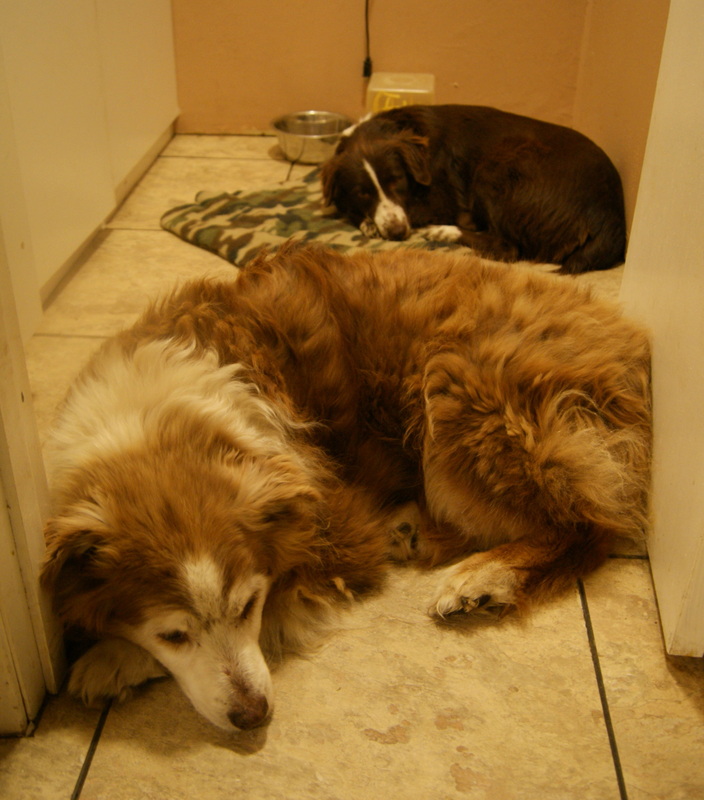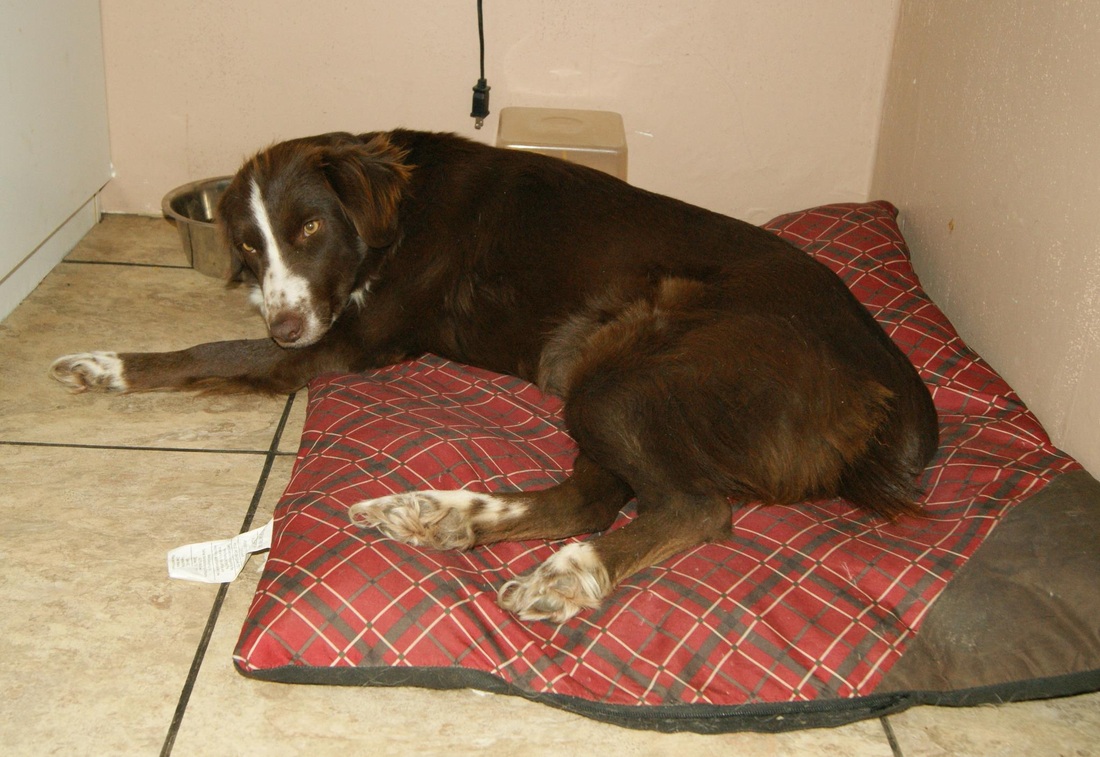 12/31/12: So let me tell you about my baby girl Gingersnap. She loves her mommy now. First, you can see that she is sleeping on a fluffy dog bed and not in the floor anymore, and her body is stretched out and loose and not curled up in a ball. She has a little fear on her face in this pic, but it is from the camera and not me. Now when I go to her room, she starts wagging her tail when she sees me, and will lift her leg up and roll over for a tummy rub. She LOVES her tummy rubs. This morning I got her to eat treats out of my hand, and then she was kissing me all over my hand and arm. I had Angel and Bonnie with me, and Gingersnap gets very excited when she sees the other dogs. I called Gingersnap to come to me, and she got up, wiggling from shoulders to tail, and she came out of her safe room into the kitchen to take some treats from me and get petted. She won't do this for very long, and then she goes back into her room, but it's progress. She was almost playing with Bonnie this morning, exchanging face licks and bouncing around a little, and Gingersnap has a total crush on Wylie, oh my goodness does she come unglued when he goes to visit her. I think the next step will be to take her on leash into the living room with us and make her socialize a little more, and put her in the main yard with the other dogs. I'm very pleased with her progress, and she will be a regular pet before you know it.
12/31
Gingersnap continued to grow more confident and assured during the next few months. She started playing with toys, playing in water, and generally being a regular dog in every way. She learned how to Sit for a treat, and to sleep in a crate. She walked on a leash, she was housetrained, she was loving, and she had even grown so confident that she would often jump in the bed with us to sleep at night. She was just like every other confident dog we had here, because they showed her how she could be. We knew at this point that Gingersnap was ready to find a forever home of her own.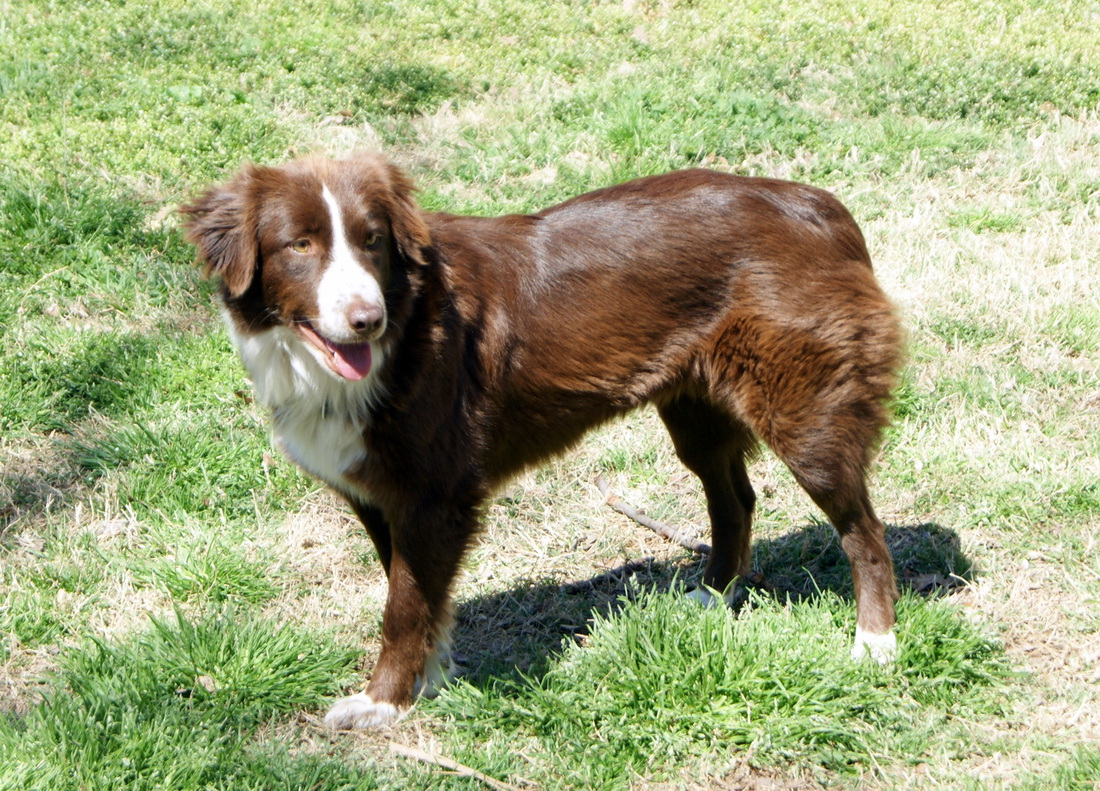 We got an email from Stephanie Becker in Stamford, CT who saw Gingersnap online and fell in love. Ordinarily, I would have frowned on an out of state adoption for a girl that is so special to me, but Stephanie charmed me into feeling like she would be the perfect home for Gingersnap. Her initial email didn't just ask if Gingersnap were still available. It was more like a resume. She told me about their family, their other animals, their lifestyle, and how much love they have to give Gingersnap. They didn't want just any dog, they wanted Gingersnap. And that is the kind of love I want for all of our dogs. She explained that they live on a lovely farm and have chickens, other dogs, and a live-in nanny and sent pictures of her and her beautiful daughter. We talked for weeks, and I felt like this was the perfect home for Gingersnap, a home with loving people who understood Gingersnap's shyness and would give her everything she needs.

Eventually Gingersnap traveled to her new family in CT by commercial transportation with Pets LLC. I can't say enough good things about these people. I was a nervous wreck about sending a scared dog who is a known flight risk on a 3-day transport, but they know what they are doing and are very good at it. Gingersnap went on transport 9/4/13 and did not want to get in that big truck. She was so scared they had to pick her up and load her. I, of course, gave the transporters my lecture about what a flight risk Gingersnap is and to never let her get away from them, no matter what. She arrived safely on 9/7/13 and was in good shape! She wasn't traumatized like I had let myself believe would happen, and she settled in to her new home and family quickly.

Stephanie and her beautiful daughter Hannah knew that Gingersnap would be very scared in her new environment at first, but she has surprised them so far. We continue to get good reports.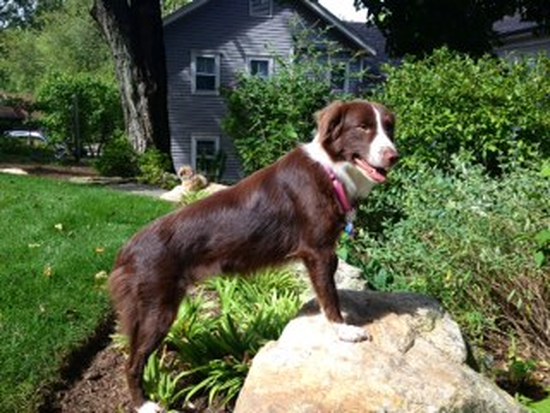 9/16/13

You would never believe this girl.
Tonight she hung out in the kitchen all evening while hannah did her homework.
Then when she ( child ) went to sleep we had ice cream party
Ice cream is every night in this house.
Big news tho is tonight gingersnap after she went out by herself for peepee and came right back in - let me teach her how to eat ice cream off a spoon!!!

Did u ever think she would come so far so fast ??
She's awesome.
Hannah has been sleeping in the tv room with The dogs every night so she can bond to her.
Anyway.
She likes heathbar crunch :)


I think these pictures prove that Gingersnap is one happy girl. And so, we are very happy too. :)