There is something important we need to talk about, and that is what to do if your adopted dog gets lost. Accidents can happen to anyone, and dogs can get loose and get lost. But how you handle it can make the difference between life and death for the dog. Don't think that because you have adopted the dog from us, we stop caring about it. We bring the dogs into our home; they live with us and become part of our family. And we will support you with that dog for the rest of his life. If he is lost, it is imperative that you contact us right away.

The first 48 hours that a dog is lost is the most critical period. You must make every attempt to find them as quickly as possible. Not only are the dangers for a lost dog many—being hit by a car, being in fights with other dogs, being attacked by coyotes or wild hogs, or picked up by animal abusers—time is of the essence in finding your dog while he is still in a somewhat stable emotional state. After 48 hours, a dog will go into survival mode and even the most domesticated of dogs will revert to primal behavior and will even avoid humans it knows very well. Your dog may actually see you, make eye contact with you, and run in the other direction. At this point, they are afraid of everything and are merely trying to survive. They have now become prey, and feel that everything and everyone is a danger. The more amount of time that passes, the more likely a dog is to slip into this frame of mind. Besides being microchipped, all of our dogs wear Martingale collars with an ID tag on that has three of our phone numbers and says RESCUE DOG. The tag is reflective so that it can help a dog be seen at night. We encourage our adopters to leave the collar and tag on until they can get an updated ID tag, so that if the dog does get lost at least someone can be notified.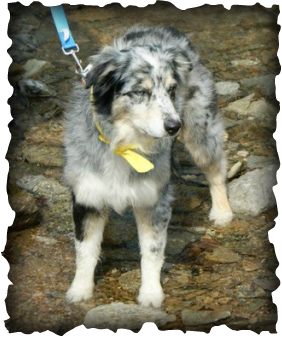 We have had a few adopted dogs get lost. For that matter, we have had our own dogs get loose and get lost. Libby, the pretty blue eyed blue merle foster, would carefully wait until nobody was looking out the window, and then she would jump the fence and go visiting neighbors. Yvonne, who we eventually became close with from Libby's frequent visits, would call and I would go out back, whistle loudly, and Libby would come running up the road towards home. Although we live in the country, we were very lucky that nothing ever happened to Libby. I actually wanted to adopt Libby myself, but due to us being unable to keep her safely home, we adopted her to a family with a tall, secure fence.


Cute little Mini Aussie, Banjo, was adopted by a rancher in Groesbeck. He was actually purchased by the adopter's girlfriend at the time, as a birthday present for the adopter, but the application was in his name and he was the one approved for adoption. Banjo stayed with the girlfriend for a couple of weeks before going to his new home, and during that time, the girlfriend and her daughter fell in love with Banjo. When Banjo went to his new home, the little girl was heartbroken. She missed her little buddy. Banjo did well in his new home as the girlfriend continued to get good updates on him. But one night, I got a call at 9 pm from a very nice couple saying, "We have one of your dogs." They live in Mexia, and we had never adopted a dog to anyone in Mexia, so I didn't even know what dog it was but we immediately jumped in the truck to go get him anyhow. When we arrived and went into the house, bouncy little Banjo came running up with a look on his face that said, "Look, I made some new friends!" This couple said they heard something scratching at their back door, opened the door, and little Banjo ran in and made himself at home. We loaded him up and headed back home. It was a very long night and we got home at 1 a.m., but Banjo was safe. We later found out that the adopter went out of town and left Banjo with his mother, and he escaped from her house, which was in Mexia. But when we had Banjo back at the house for several days and the adopter never contacted us about him being missing, we were very disappointed. We were not giving Banjo back, because they were in violation of our adoption contract by not letting us know Banjo was missing. Around this same time, the relationship ended, and we were eventually able to adopt Banjo to the former girlfriend and her daughter had her best buddy back home by her side by Christmas. We were very glad that Banjo went to a home where someone would help him find his way back to us, because he was in grave danger being a small dog out in those ranch lands full of predators.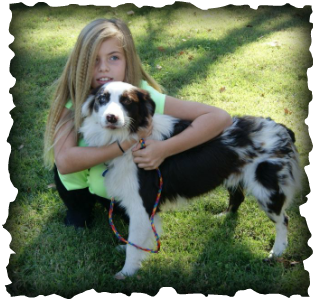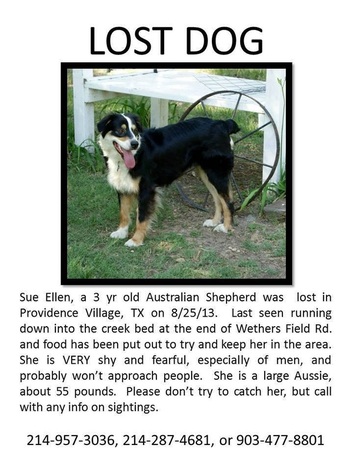 Suzie, formerly named Sue Ellen, was not as lucky. She was an extremely shy and fearful dog to begin with, one of the most sensitive we have had in the rescue. She was adopted and was doing well in her new home for about 2 months. But her adopters had to go out of town for one day, and left Suzie with their daughter in another town. Almost immediately, Suzie escaped the daughter's home. A chase ensued, and Suzie was last seen running into a creek bed in Aubrey, TX on 8/28/13. The adopter did contact me for help, but Suzie had already been gone for a week when I was contacted. The adopter had been searching on her own but wasn't having any luck. I spent two days up there, walking and searching, and even took another dog to help me search one day. I never saw any sign of her anywhere. We circulated signs, and started getting information regarding sightings. I took all of the sightings info and compiled a map of where people said they saw her. We were very optimistic that we were getting close. Finally, we got what we thought was a good lead, and this sighting was in the same place as a prior sighting. So we started baiting the spot with food for a few days. When we saw that the food was being eaten, I went back to the area and set up a game camera to see if it was Suzie who was eating the food, planning to set up a humane trap to catch her. The camera took pictures for 4 days, and there was not one picture of Suzie. She was not in the area. There was one big coyote on the camera, so I am glad we didn't just put the trap out because I sure would not have wanted to capture him. We eventually determined that a lot of the sightings that were reported were not even Suzie. One report said that they saw her out in a pasture herding cattle all by herself. For a dog as fearful as Suzie, that is not possible. She never would get that close to livestock. One sighting was from 5 miles away, and she would have had to travel down the side of a very busy highway and move into a heavily populated neighborhood. We knew that wasn't possible for this dog. Sadly, Suzie has now been gone almost 3 months and I doubt we will ever see her again. This is so heartbreaking to me, after all the work I did to try and rehabilitate her and give her a new start on life. I don't know that I would have had better success if I had been notified immediately. But that is a definite possibility. This particular girl did have her ID tag on, but was too shy to get close enough to a person to allow them to read it. Of all the dogs to have get lost, this is probably the worst one it could have happened to.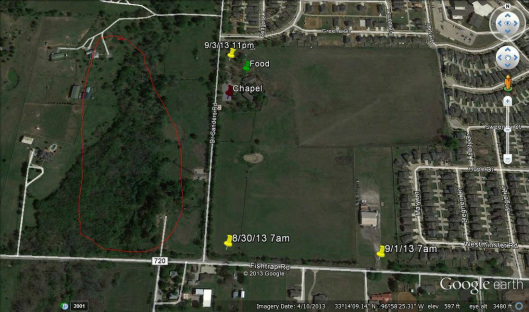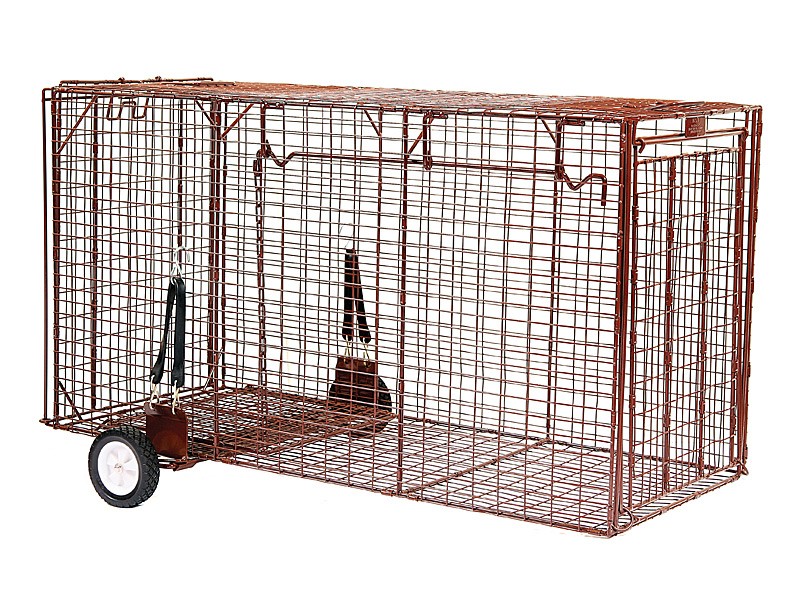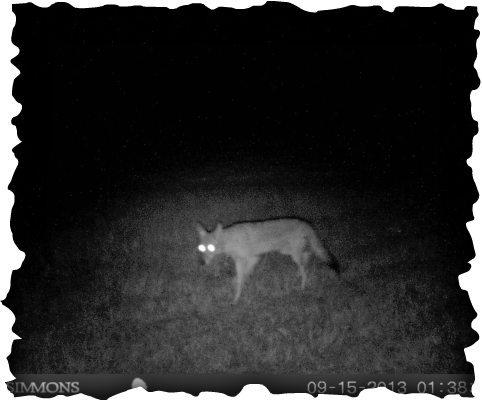 Brazos is a gorgeous blue merle Aussie who came from a neglectful background where he spent the first 3 years of his life confined to a back yard behind a privacy fence, and had little or no human interaction. Once in our rescue, we found him to be so sweet and loving and starved for attention that we wanted to just shower him with affection. Although his stunning looks drew much adoption interest, we very carefully chose his new family because we wanted to make sure he had an opportunity to get all of the love and attention he had been denied in the past. After careful consideration, we adopted him to a family in Spicewood, TX that seemed like the perfect fit for Brazos. They were a mature, settled couple who were home most of the time and could spend the majority of their time with Brazos. Brazos went to his new home on 11/3/13, and we were ecstatic. But our emotions quickly changed from joy to panic and fear when, only three days later, Brazos was found wandering down a busy road alone. He was not wearing his ID tag; the adopter had changed his collar before he left us. He is microchipped, but not everyone knows to check for a microchip. By the grace of God, Brazos was wearing his Rabies tag and that is how we were eventually contacted, after Brazos was taken home by a wonderful woman who found him and kept him from harm. We were not contacted by the adopters that he was missing, and I am not really sure how long he had been missing. I started networking for transportation assistance to bring him back to us, and waited to hear from the adopters. We had a volunteer offer to get him and meet me in Temple, TX with him that evening, so as soon as I got off work in Dallas I made the five hour round trip drive to get Brazos and bring him safely back home. It was about 11 pm when we got home, and although Brazos wasn't sure where we were going at first, he absolutely came to life when we got home and he heard the other dogs, and he practically dragged me all the way to the back door. He was stinky, tired, and very very hungry. I don't think he had just gotten out that morning. And I still haven't heard from his adopters. Brazos has been traumatized from this continued abandonment, and it shows. No dog deserves this. He will be with us for quite a while until I find a family worthy of him.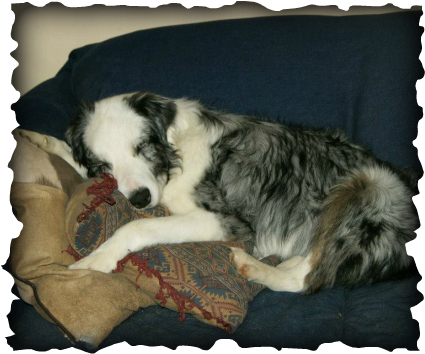 My number one rule: If I have to get in my vehicle and go get your dog, and you do not contact me to let me know he's missing, you will never see that dog again. A dog can escape any of us. I haven't even mentioned Angel, who will jump the fence and go explore, and then when I call her jumps back in the fence and comes running to the front door like she's been in the yard the whole time. So, I know how dogs can be. Even with our best efforts, dogs can get lost or get out and wander off. But you HAVE to let me know immediately if your adopted dog gets out. We have a huge network of people that can help look and spread the word. We have social media, and lost animal hotlines. We have Yahoo groups and email lists. And TBAR is in possession of two different sizes of live animal traps, and a high quality game camera. We have all the tools we need, we just need COMMUNICATION. One person can't think of everything, and as I said earlier, time is of the essence. Suzie's adopter was so stricken with sadness that she didn't think of making a flyer or a couple of other things until she enlisted my help a week later. A flyer with a picture should be done immediately. And it must have a picture, a good recent picture. "Missing, black tri Aussie" won't cut it. Black tri Aussies are very common and can range in weight as adults from 30 pounds to 85 pounds. Your Aussie may be someone else's Heeler. Some people don't even know what an Aussie looks like. You MUST have a picture.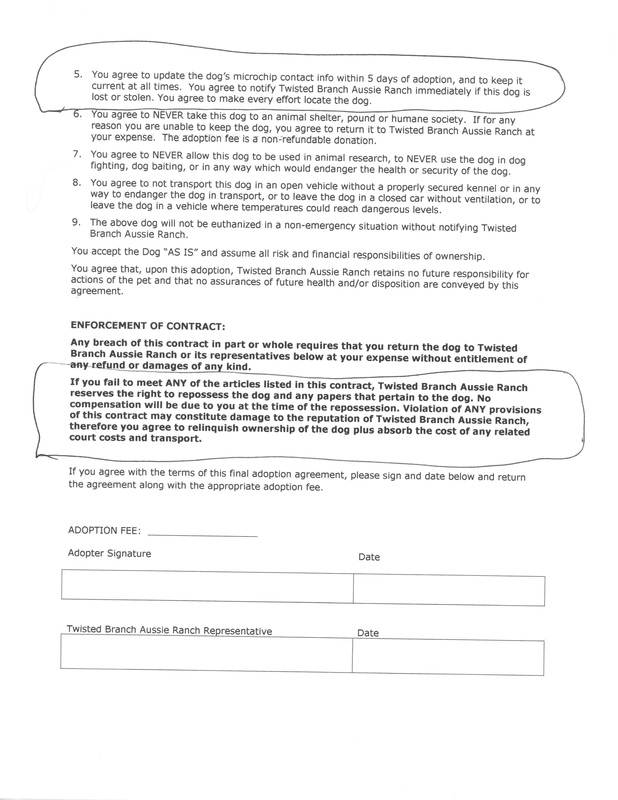 Our dogs are my babies. If one gets lost, and you don't let me know and I don't see that you are looking for it, I take it personally. My dogs are not disposable. They are loving, loyal beings and they deserve the same loyalty in return. Our adoption contract stipulates that you notify us if the dog goes missing, and that if you violate that contract you relinquish the dog. But it's more than that. It's about the safety of the dog. When I opened the email about Brazos that said, "Brazos was found…..", my heart dropped into my stomach because I just knew the next words would be "dead on the side of the road." PLEASE do not ever let that happen. If you see a loose dog, please take it in and try to find the owners. It could be someone's baby. Please keep your own dogs safe, keep an ID tag on them, and if all else fails and they do get out, contact me immediately.
The following are some networking sites for lost dogs:
Australian Shepherds Lost and Found USA, Facebook page
https://www.facebook.com/AustralianShepherdsLostAndFoundUsa
Lost Dogs of Texas, Facebook page
https://www.facebook.com/findtexasdogs
Craigslist
www.craigslist.org
Pet Harbor
www.petharbor.com