We had an extra-special day yesterday at TBAR. Five of our babies went to their new homes with five wonderful families! And we think every single one was a perfect match between adopter and dog. Here is the rundown of our day.
10:00: Adoption meeting for Atchafalaya Troy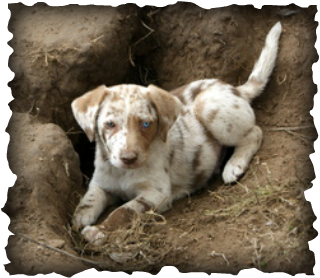 The Washbourne family came all the way down from Tulsa, Oklahoma for our blue-eyed bubba. And he was a perfect match for them, too. Troy was gentle with their little girl, and very laid back and calm to meet but not scared. Their adoption application was completed by the husband, Jake, and had the wife's occupation listed as "Housewife/Awesome Mom" and I told him that's probably why their application was approved.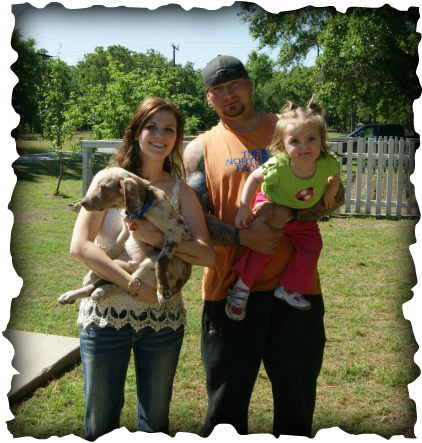 They were very nice people who have two other rescue dogs at home—a Great Dane and an English Bulldog—so Troy will be the middle kid. I love that Troy will have dog buddies as well as a very loving family, because he's a very social dog. This baby survived neglect, a heavy parasite infection, and then Parvo, so he really is a fighter and deserves everything good life has to offer him. Happy life, Troy!
11:00 Adoption meeting for Onyx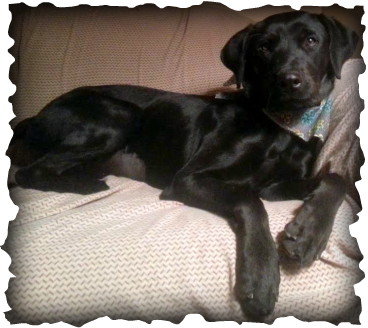 The Masters family from the Lake Highlands area of Dallas were referred to us by a work colleague. Phil and Kay recently lost their beloved Lab of many years to old age, and when they saw Onyx and heard her story of neglect they were very interested. Unfortunately, Onyx suffered through Parvo which delayed her adoption, but the Masters continued to be patient and wait for her. Then, we found out that Onyx had heartworms, and I feared that would change their minds about adopting. It didn't.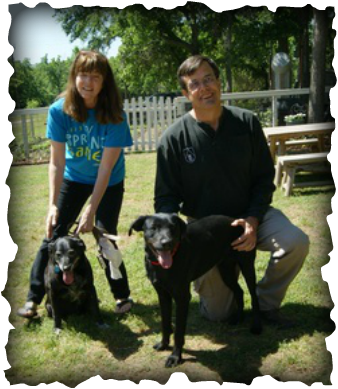 When I saw the way Onyx reacted to this family, and their dog, I knew it was meant to be. She absolutely adored Phil especially and was following him around after just a few short minutes. I predict they will be great buddies. This adoption makes me particularly happy, because this girl will now get all the love and attention that she has been denied in the past. They will be taking daily walks along the greenbelt that runs near their home, she has a dog sibling, and a mommy and daddy who will love her. Have fun, Onyx, be sure to write!
12:00 Adoption meeting for Zoey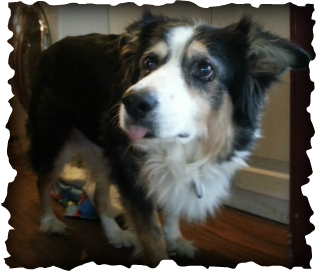 The Sniders make the trip from Denton County down to visit our sweet Zoey. They have a senior male border collie mix, and they were looking for a companion for him. They enjoyed the fact that Zoey was an adult dog, already trained without bad habits, and a quiet, polite girl.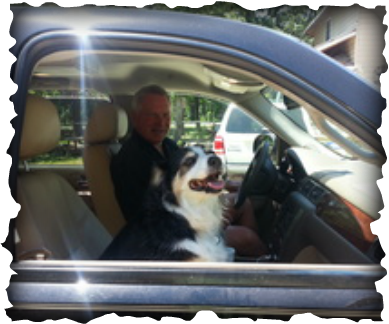 The introduction between the dogs took some time, because Zoey can be grumpy when new dogs invade her personal space. But with a little patience and perserverence, Doug and Ginger were able to get Zoey to relax and behave and I think I saw her start to initiate play with the other dog once. This family likes to take their family on the road in their motorhome for several months out of the year, and I think Zoey will adore having that kind of attention and fun. And she loved her new mom and dad, and showed them with kisses and tail wags! Zoey was rescued from the very high-kill Oklahoma City shelter, and we are so glad we were able to help her make this journey. When it was time to go home, Zoey jumped in the shotgun seat and said, "Let's roll, Dad!"
1:45 Adoption meeting for Remoulade Remy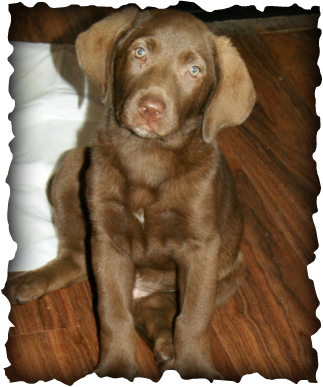 Remy's family, Kristina and Garrett Graves from Austin, were also referred to our rescue by a friend. (We LOVE that!) They submitted their application for Remy almost as soon as we rescued him, and have been patiently waiting for him to be ready for adoption. He will be their first child, and they all had a very good chemistry together. Remy, that boy is changing all the time, and he's now starting to look more like a Hound than a Lab, but who knows how many more times he will change.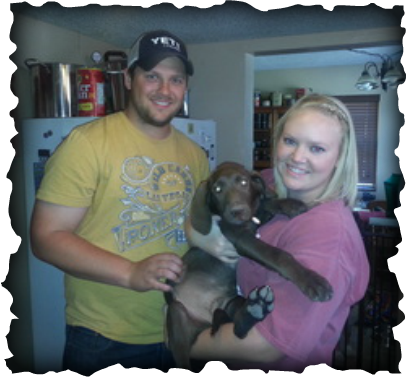 Remy is more people-oriented than his siblings, so he'll be fine as an only dog with two people who love him dearly. The Graves got to visit all of the other dogs, and see the dogs that they have been following on our Facebook page. We are so grateful for the loving home they are giving our sweet Remy, and the dedication they have had to him for the last couple of months. And to think that this sweet boy was in danger of being dumped in the woods to die by his former owner. You hit the jackpot, Remy!
3:00 Adoption meeting for Storm
Oh Storm boy, how happy are we for you. This poor dog, when we rescued him, was just a wreck. He had been shot with a shotgun and still has at least 50 pellets in him that can't be removed. He's got a blind eye, most of his teeth are broken, and he has heartworms. His coat was a matted mess that stunk from filth. He just had not been cared for at all in a very long time, if ever. And once we got him all spit-shined, WOW did this dog change. He got energetic, frisky, playful, talkative, and even started playing with dog toys. It seemed that he was aging in reverse. And talk about loving, oh my goodness was he happy to have someone to love him.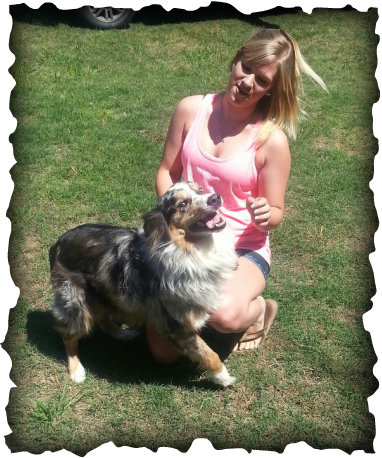 Storm knew it was Adoption Day. He patiently waiting while everyone else had their meetings, and when it was his turn and Leah arrived from College Station, Storm just knew. I let him into the kitchen to meet her, and he was jumping and bouncing and vocalizing and just being a major nut. He acted like, "I've been waiting for you, where have you been?" It was wonderful to see. Leah attends college at Texas A&M University and has lots of time to dedicate to Storm, and I know that dog is going to be in heaven being her only baby. He will finally get all of the love and attention that he was denied in his past. And Leah, she was overjoyed with Storm. I'm betting he slept with her last night, lol. Way to score, Storm!
---
We really really REALLY love seeing these dogs to go wonderful homes like this. And we are very flattered that people would come from such long distances to adopt one of our dogs. Combined with the amount of referrals we are getting, we consider that a huge compliment and an indication that people support what we are doing. We are so appreciative of that support, because it allows us to continue to do what we do. Today, five babies have new homes. Five families have new babies. And this makes us very, very happy!