We got the most incredible update on one of our alumni, Parker aka Grumpy Pup. Many of you followed his story so I knew you would love to hear the great news. First, a little background for those of you who didn't know Parker.
In October 2013, we were notified by some volunteers about Parker, an 11 week old puppy in the Carrolton, Texas animal shelter. This puppy had severe emotional issues, and even at his young age, he would sit at the back of his kennel and growl and snarl at anyone who approached, and would bite if you tried to touch him. It seems that Parker was found in a dog crate at the Parks & Rec department where they keep their tractors and equipment. The city was not using the equipment on a daily basis, so it's not known how long Parker had been there. The truly sad part of this is, whoever dumped this baby there had to drive right past the animal shelter in order to leave him where they abandoned him at. It was a miracle that he was found in time. Once at the shelter, he was marked Rescue Only because he was unadoptable, and his status was urgent. We knew we had to help this baby. Based on his shelter picture and the scowl on his face, we nicknamed him Grumpy Pup.
We had some great volunteers rally together and get Grumpy Pup out of the shelter and they brought him to us. We carried him indoors in his crate, which was his safe place, and put it in the downstairs bathroom. We opened his crate, put a baby gate at the bathroom door, and allowed Grumpy Pup time to come out and explore the bathroom area on his own as we checked on him periodically. He was not a happy boy when he arrived, and would scream a blood-curdling scream of fear when frightened. I've never heard anything like it. It was truly a scream, not a bark or a howl. After a couple of hours, Grumpy Pup came out of his crate and was moving around the bathroom a little bit, so I went into the room and tried to introduce myself to him. I approached him slowly, talking softly to him, while he backed into the corner and growled at me nonstop. Being the impatient person I am, I pushed him just a little too far, invaded his personal space, and reached in and tried to pet him. He quickly gave me a bite, a good bite that drew blood. Yes, an 11 week old puppy, that aggressive. What in the world has this baby been through in his short life? I didn't blame Grumpy Pup for this, it was my fault. He wasn't ready. He reacted in the only way he knew how. So I left him alone for the time being.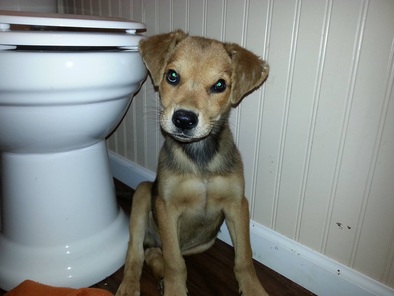 Parker's first night with us had him huddled in the corner of the bathroom, daring anyone to come near him.
After I went to bed, Mark stayed up and worked with Grumpy Pup. Grumpy Pup had been here several hours by this time, and things were quiet and he was starting to relax a bit. Mark has a very calm, soothing nature and the dogs relax around him, and he was eventually able to not only pet Grumpy Pup but even picked him up. And once he did, Parker seem relieved. As if to say, "Oh my goodness, this is what I've been waiting for, someone who would be nice to me." He was still very, very afraid, but he was trying to trust.
Having secure, stable dogs here is the best tool we have at our disposal in rehabilitating dogs like Grumpy Pup, and by the next day I would look to see Grumpy Pup standing at the baby gate of the bathroom, curiously looking at the dogs in the house and listening to all of the household noises. Not wanting to set him back, I slowly acclimated Parker to the house by first removing the baby gate and allowing him to come into the kitchen when he was ready. Once he started moving around in the house a little, I gradually introduced him to dogs to see how he would react. Much to my pleasure, Grumpy Pup was not nearly so grumpy while in the company of other dogs. Their calm energy soothed him, and he was quickly accepted by the dogs. It's as if they knew he needed them, and they took him under their wing as if he were their new little project. It was a wonderful thing to see. I know that we would not have been able to make the progress we did with Grumpy Pup if he had been an only dog.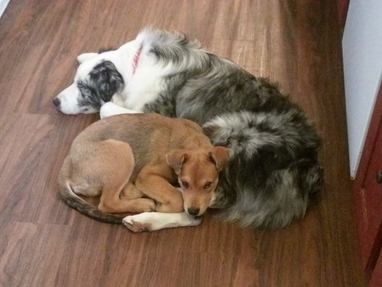 Brazos and Parker. You can see that he was consoled by having a dog friend.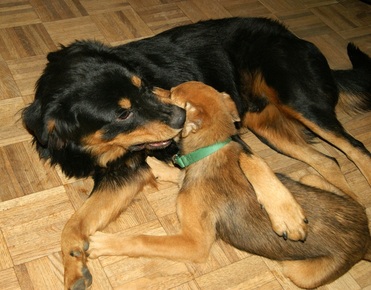 Ruger and Parker. These two could play all day long.
Grumpy Pup continued to grow more and more comfortable here.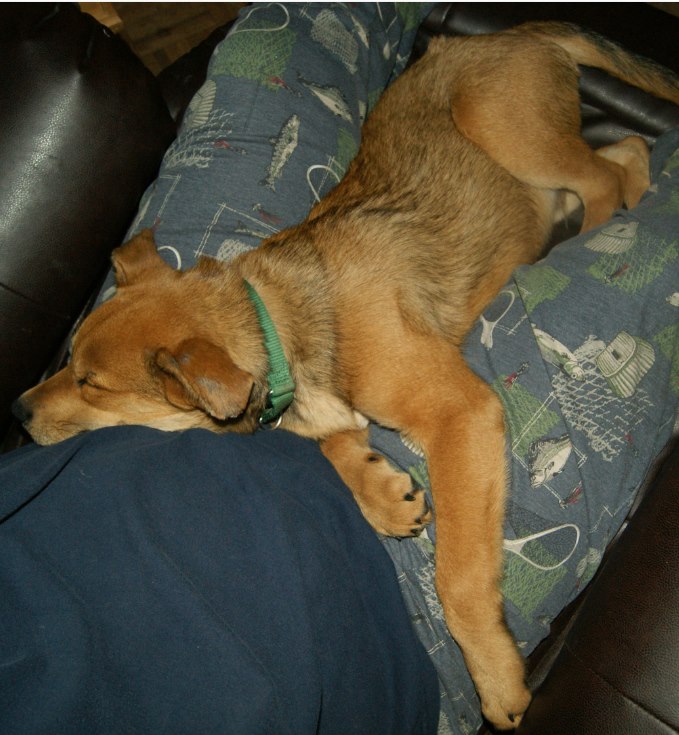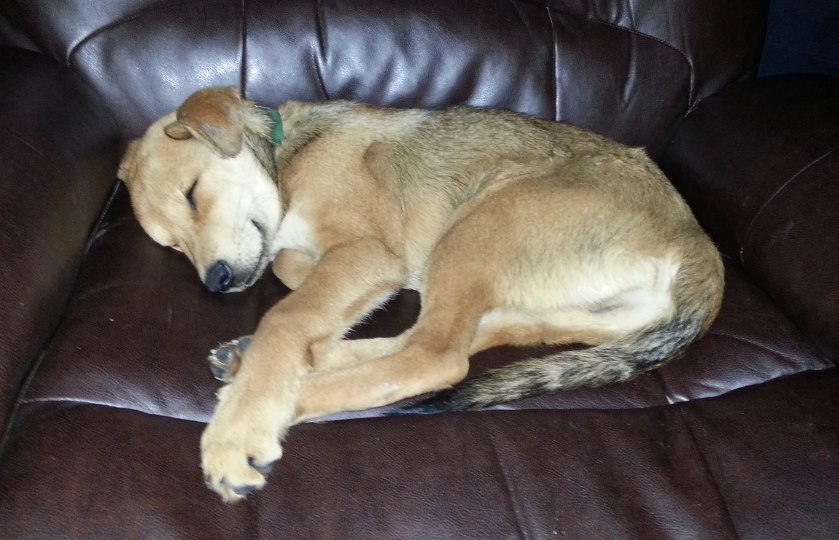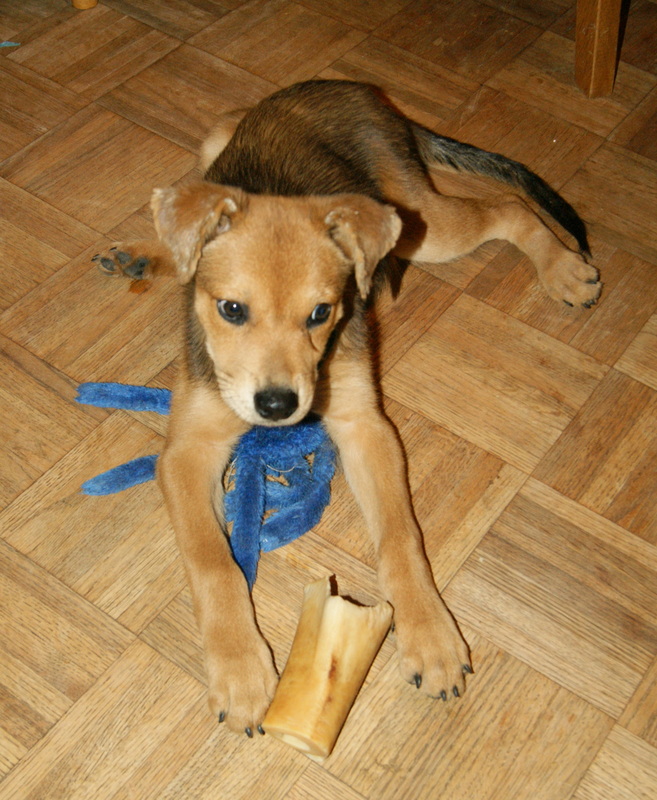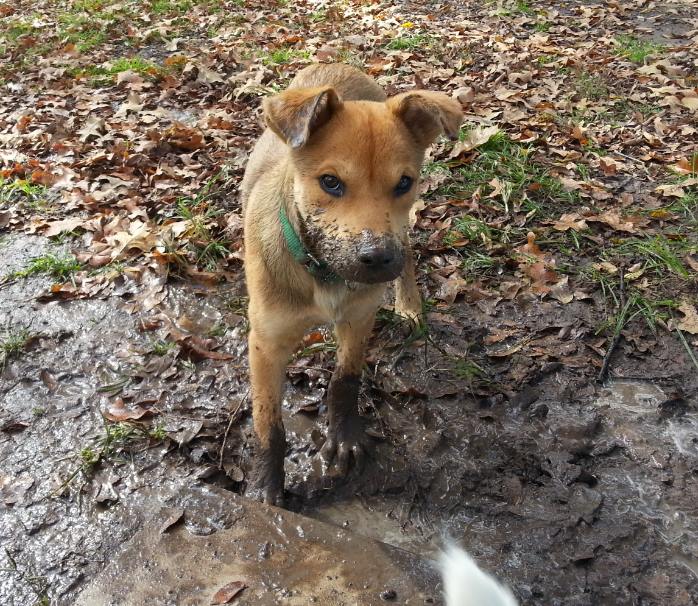 Grumpy Pup had pretty much become a "normal" dog and was ready for adoption, or so we thought. But shortly after listing him for adoption, he had a major setback that let us know he was far from rehabilitated. One day, when adopters came to the house to visit another dog, Parker was in the kitchen. Upon seeing the new people, Grumpy Pup completely freaked out and reverted to his fearful, traumatized state. He started the blood-curdling screaming again, and backed himself into a corner with a look of terror on his face that told me, "If you move closer, I WILL bite." I knew he would bite me, there was no doubt. His mind had gone to a place where he wasn't even sure who I was at that moment. I opened the baby gate from the kitchen to the living room and called Parker to the safety of his crate in the living room. He quickly ran into the crate, where he continued to growl the entire time the visitors were there. And it broke my heart. After all the progress that we had been making, I know knew Grumpy Pup had some very deep emotional scars and that he was going to need a lot of work, love, patience, and understanding.
Around this time, I was contacted by a couple who were very enthusiastic about adopting Parker. I explained his situation, that he wasn't yet ready for adoption, and went into great detail on his emotional state. But this couple, this wonderful couple sent to us from Heaven, had already decided that Parker was meant for them and that they would be willing to do anything and everything that needed to be done to make Parker part of their family. I even tried to discourage them, but they were not giving up. They wanted to help this sweet puppy. So, at the beginning of December, Grumpy Pup and me made the trip to Ft. Worth to meet his potential new family.
The meeting went pretty much as expected: very difficult. It did not help matters that the moment I got Grumpy Pup out of his crate to go meet his new family, a loose and very friendly Pit Bull female came running up the sidewalk straight towards Parker and me. This alone might not have scared Parker that much, but the lady running down the sidewalk behind the dog, waving her arms and shouting "She's OK! She's friendly!" did not help matters, and Parker went nuts. He started screaming and thrashing and he urinated all over me while I held him as tightly as I could to keep him from getting away. I calmly but loudly said, "This dog is traumatized, please get your dog and put her up" which the lady quickly did. So this is how our adoption meeting started out. Sigh.
Of course, when Brian answered the door, Grumpy Pup was still growling. I had asked the adopters, Brian and Annie, to have Grumpy Pup's crate set up in the main room of the house where we were meeting, so that he would have a safe place to retreat to when he became scared. We went inside, I showed Grumpy Pup the crate, and he immediately went inside. Annie tried to coax Grumpy Pup with some treats, but he was having none of it. He was relaxing, though, you could see it. He was looking around, seeing their other dog, looking at the house, listening to Annie talk softly to him, and he was rather curious. Then the treats started working just a little, so we brought out the secret weapon—peanut butter. I have never in my life seen a dog who could resist peanut butter. Annie smeared some on her hand, and Parker started licking it off her hand. Then he came out of his crate, and as long as he was getting peanut butter, he forgot for a moment that he was scared. He started letting Annie pet him, and then he started moving around the room a little. We had to do this whole scenario over again with Brian, and he was a bit more hesitant to let Brian touch him in the beginning. He met their dog, Ace, and he perked up a bit then. He liked seeing another dog there. It made him feel safe. So now, we have allowed petty by both the adopters and giving the other dog a good sniff, so we move on to the yard and I show him the way outside and go explore the yard with him. He was fine as long as he was with me, but at one point he lost sight of me and again went into his trauma state where he ran into the corner of this new, unknown yard and started screaming. His eyes weren't glazed over this time as in his former episodes, so I was eventually able to calm him enough to allow me to pick him up and carry him. We did this 3-4 more times, going inside and outside and getting used to the boundaries and routine, until Grumpy Pup was actually going outside through the open door on his own and exploring a little bit. This made me so happy! I could see that he was trying to take that next step. I knew that these two people were dedicated to Parker's continued rehabilitation, and that if Parker continued to try as well, this was the home for him. I must say, this was the most difficult adoption meeting I have ever had. I sat and worked with Parker and his new family for about 2 hours trying to make this introduction. But it worked, and when I left I received these two pictures by text message and it made me cry happy tears. Grumpy Pup found his family.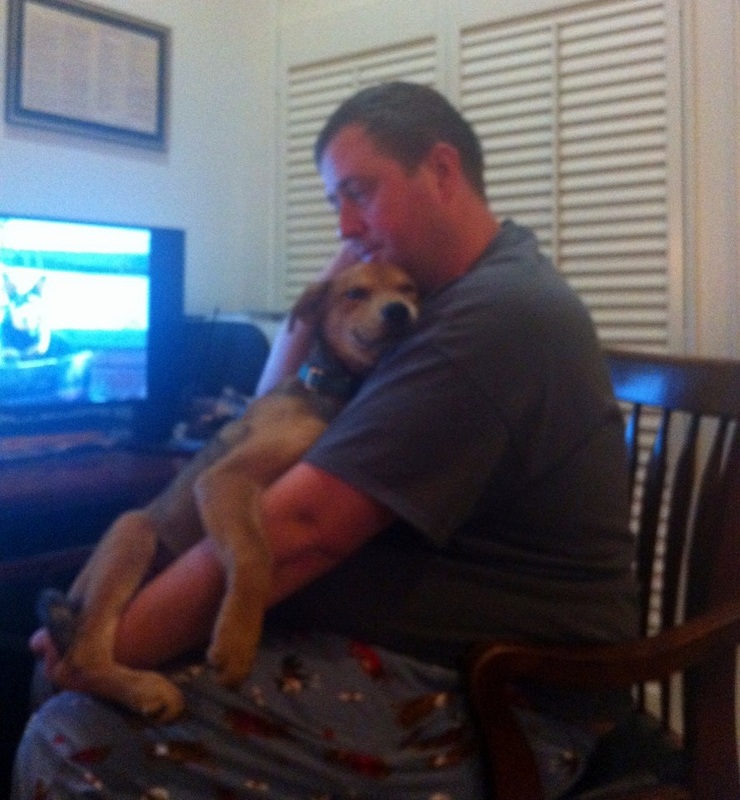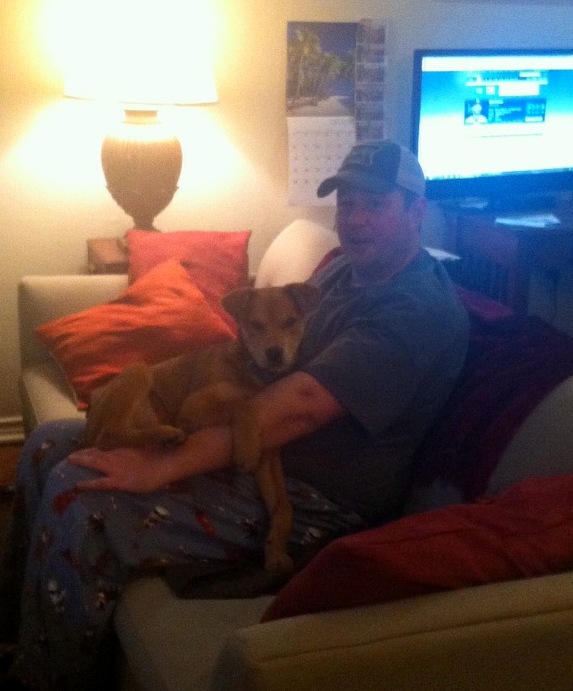 Now, six months later, we received the most wonderful update on Grumpy Pup:
Hi Karen

I hope all is very well. I wanted to touch base since it is almost exactly six months since I adopted Parker. (You made the drive to Fort Worth on Sunday, Dec 1st to drop him off and Jun 1st is days away)

First, I attached a handful of pic's of Parker to share. He is really become a great looking dog. FYI, some of the pic's also have (his brother) Ace in them, which is also a rescue that Annie has had for roughly 8 years. Annie and I both believe Ace played a big part in Parker's success.

Second, I wanted to let you know how amazingly well Parker is doing. After months of initial struggles, he finally turned the corner and seems to be maturing and settling in so very well. Parker is extremely smart, good sense of following rules, and is quite the entertainer. He certainly enjoys being the center of attention and we enjoy the laughs. We still have work to-do mostly around him being more comfortable around new people as well as letting us invade his personal space for regular brushings, nail clippings, and vet apt. At this point, I am confident those last challenges will come in time.

Thanks for letting me share. I could go on all day on how he has improved and his successes. In reflection, Parker literally went from a dog "is he gong to make it living with us" to "this is the best thing that has happen to us".

I hope you have a nice Memorial Day and enjoy Parker's success story. It all started with you initially saving him and then allowing us the opportunity to enjoy this very incredible dog. (PS, I can send more Pic's if you want but I kept it at four.)

Thanks,
Brian, Annie and Erica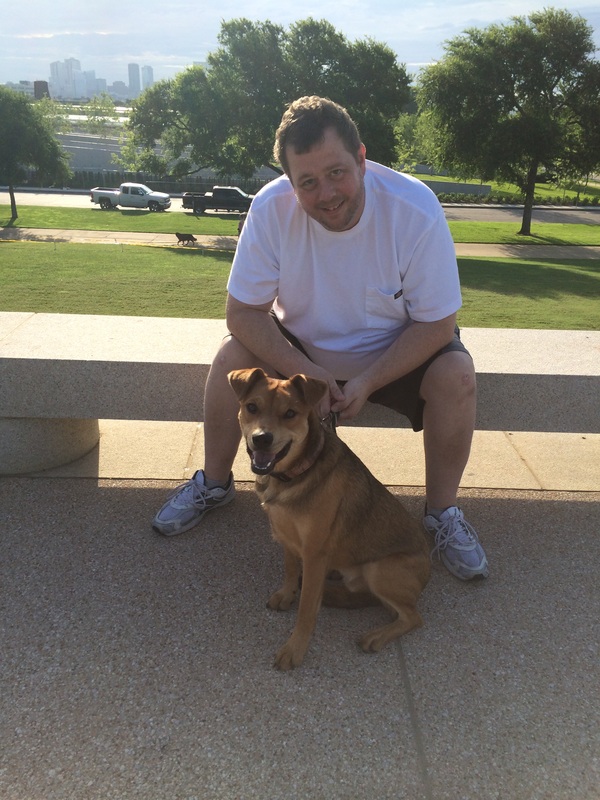 I have probably never cried over an adoption update like I did this one, but I have never worked so hard to help a dog before, either. And this transformation wasn't due to us, it was due to the amazing love and hard work that Brian and his family have done with Parker. They never gave up, and I can assure you it was not an easy road. It encourages me to know that there are people like Brian and his family who will go the extra mile for a dog. This just proves that there is a home somewhere for every dog. When we first rescued Parker, I actually had another rescuer suggest that we euthanize him, even at his young age. She said, "If he's aggressively biting at this age, what are you going to do when he's a 60 lb dog?" Well, in this rescue, we don't euthanize dogs for what could happen in the future. We feel it's our responsibility to give them every opportunity to rehabilitate and improve, and that's exactly what Parker did. He may never be like other dogs, one that you can approach without introduction, but what one of us is without issues. Parker found a family who is not only able to work with his issues, but who are very willing to do so because they don't focus on the traits he doesn't have but instead highlight the beautiful traits that he does possess. Parker has grown into a beautiful dog, and he has value and meaning. Brian, Annie, and Erica did that for him. God bless adopters like this.