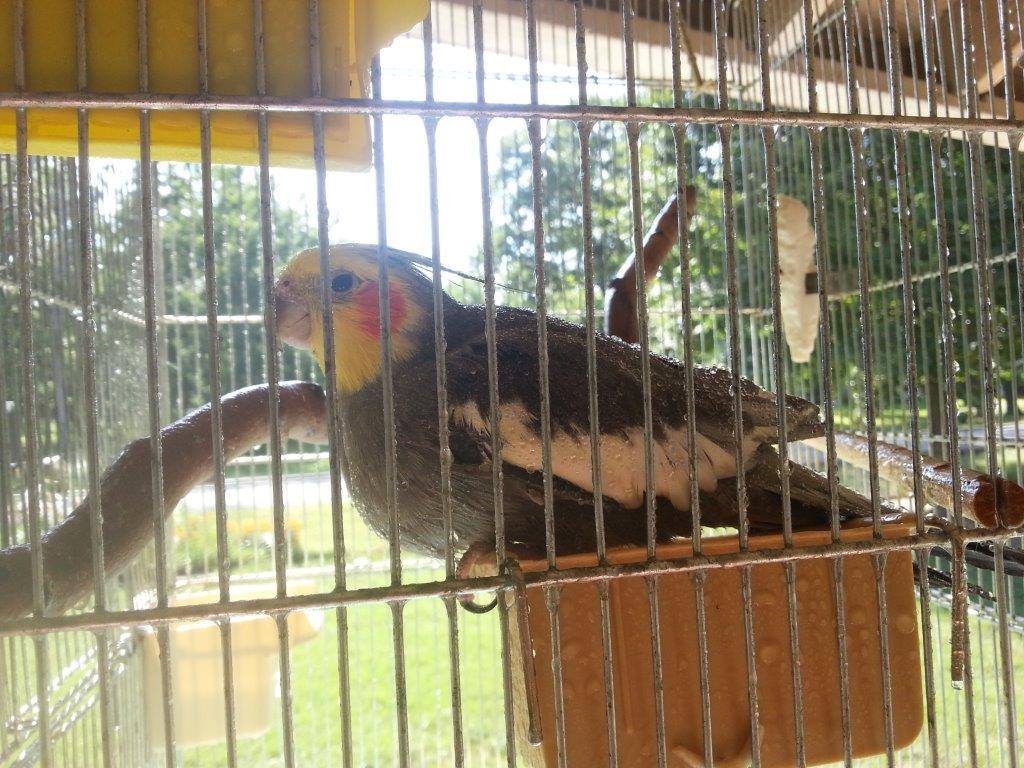 We lost our family pet, Lacey, after 25 years. He died quietly in his cage on Christmas Eve 2014. He was never sick; he just knew when his time had come. He did everything that he always did, which was to monitor and dominate all of the dogs in our rescue, until he knew his time was done, and then he quietly passed.

I sure didn't know when I walked into Lakewood Pet Store in 1989 that I was going home with this bird. But when I looked at all the birds, he was the one who jumped up to the front of the cage wanting attention, and I reached in, and he chose me. He chose me. I could not believe how friendly he was. I didn't even want a bird. (OK laugh at that last comment if you will) I took him home and put him with me female, and she didnt' hate him, so it was a go. He was not my first bird, but he was the first bird to act like he wanted to be with me.


Through the years, I let him grow untame and he was no longer comfortable being handled. Now with a mate, he no longer cared for my attention, but only the attention of Lefty, the female. Why the odd names for my male and female, you ask? And that leads to another story.

When I bought Lacey, I had a cockatiel at home names Lefty. Lefty was a white cockatiel that I bought thinking it was a female. The whole background of Lefty was unfortunate. Lefty was purchased from a friend of mine whose mom had a bird that had babies….you know, the whole friend of a friend thing…and I think I paid $40 for him. Got him home, and he was missing his longest toe on his front leg. They said that was from a "bird fight" or some such shit but that the bird was fine. I loved him more. I named him Lefty, and off we went about our merry lives.

Lefty was a white bird, not an albino. There are distinct differences. Lefty had black eyes & nose, and an albino have pink eyes and often some associated health issues. Lefty was white, but had a little yellow here & there, and for a white bird, had a lot of color on the head. Sex in a cockatiel is almost impossible to tell in a young bird; you make your best guess based on color. Even in breeding, you sometimes have to have the bird "surgically sexed" where a vet will make a small incision to see which sex organs the bird has. That is not something you would want to do for a pet bird. Based on Lefty's colors, it was a male. So I named the boy Lefty.

Years later, I found another cockatiel and really, I wasn't even looking. The bird kind of found me. When I walked into the pet store and this bird just threw itself at me with friendliness, and it had a full crest on top and subdued colors on its face, I just knew it was a female. I bought her and took her home, named her Lacey, and my male, Lefty adored her. They bonded. It was really heartwarming, those two loved each other. I was relieved that I made a match.

One day, I heard all kinds of quiet chirping and went into my bird room, and was stopped in my tracks. My "female" bird Lacey was having a very romantic episode with my "male" bird, Lefty, and nobody was unhappy about what was going on. Wow, it turned out that I did indeed have a pair of birds, but it was exactly the opposite than I had planned. My male was my female, and my female was my male! I don't even know how that could happen, except that I am gifted like that. So I had my pair afterall.

Lacey and Lefty went on to live very long, happy lives together. They eventually produced two bird children at two separate times that we were able to place in loving homes with friends. Lefty passed on the weekend that we moved into this house in 1991. She has a spot under a tree in our flowerbed, and has now been joined with her long time companion Lacey. We are happy to have spent such a big portion of our lives learning from these two sweet birds.


One thing I forgot to mention in this bird's tribute. He was a badass rescue-family bird. Lacey was in his cage and over the last 3 years, I bet 200 dogs came into the room and he had to deal with all of them. Lacey was not afraid, and he trained these dogs. He was brave and would dive for a dog's nose in an instant. He had them ALL scared! Even big 60 pound dogs thought, "that guy didn't last this long being a sissy." It was part of the home life of TBAR and dogs learned to respect this guy.