It has been an awesome week at TBAR. The energy here has been really good and some of the dogs that need the most work have really made incredible progress, everyone is very happy, and things are actually calm! "Calm" is not a word often used in a home with a baker's dozen of dogs, which is why I am so happy.
We have some very special dogs here, dogs that are not ready for adoption and dogs that may never be. We have ferals that we welcomed into our lives because nobody else wanted to take the risk, and we often have good luck with dogs like this. We also have extremely shy dogs that are fearful or untrusting of humans. But the two are completely different. A feral dog is not shy. Shy is a dog who takes time to warm up to you, but otherwise wants the attention of humans and wants to be part of a family. Feral dogs, for the most part, would love living in a world without humans as long as they were still getting their primal needs for food and shelter met. They are generally very social with other dogs, though, because this was mandatory in the wild for survival.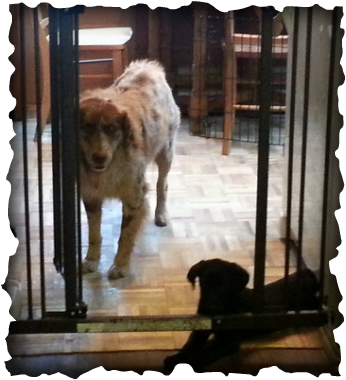 Laredo is feral. Laredo will, more than likely, always be feral. We will celebrate two years together on 2/8/15 and he still won't allow me to approach and pet him. We rescued him and his sister when they were only around 4-5 months old, and they were the most fearful animals I personally have ever seen. I had to muzzle Laredo to pick him up, and then he emptied his bowels from fear. His sister Stella did rehabilitate in a few months, and has been adopted into a loving home. She decided one day that she liked a family, and learned to trust, and became the most loving sweetheart you've ever seen. Laredo refused to let go of his fears. Ferals will all socialize to a different level, even littermates. We soon found out Laredo is terrified of thunderstorms, and that's how we got him indoors for the first time. He now happily runs indoors every day to eat, but runs to his hiding spot under the table. He won't go anywhere that would allow someone to box him in to a corner. He has a deep fear of being "caught". He's always on the lookout for an escape back out into the yard, and after he eats he darts out like he's about to be trapped. But, he does love and trust me in his own way. I crawl under the table into his hiding spot and lay there and pet him and just make him accept touching. When I come home from work, he's at the fence dancing in excitement with his tail wagging. When I walk through the yard, he is walking about four feet behind me, with his tail wagging in a slow wag. If I turn to pet him, he takes off, but if I just allow him to be near me, he follows me everywhere. It's our understanding—I just let him be. He no longer has a drawn face when he looks at me. I can see that he loves me, and he trusts me, as long as I don't push the boundaries. After two years, he has finally started taking treats from my hand every now & then, instead of me having to toss them to him in his corner. But last night, he really shocked me. I had my dinner in the living room, all the way across the room from Laredo's safe spot underneath the table. And as I was eating, he came out and started towards me, curious about what I had. So I cut him a piece of pork, and held it out to him. He walked all the way across the room, and took the food from me!!! Way out in the open of the room! I was so excited I pretty much fed him the rest of my dinner, and he continued to come take it gently from my fingers and even was licking all of the rest from my fingers. Now, if I had turned my hand to pet him, he would have been gone. But I let him be who he is, and he loosened up so much. It was so great to see him so relaxed and calm. Then today, I saw him all the way inside the kitchen drinking from the water bowl. He had to walk through an open baby gate to do that, and that is an opportunity for him to be trapped, so I was shocked that he would go that far. He's really doing great! I may never be able to hold him in my lap and pet him all over, but he's happy, he plays with dogs and toys, he enjoys treats, and he loves me. And I respect his boundaries, and he's got a home here. Among dogs, Laredo is our Alpha. He sort of assumed that position after Rocket's death, and I think it has helped to mature and settle him.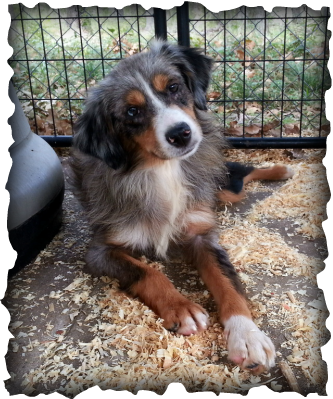 Sparky the Mini Aussie is another dog we've been working on, and he's really done great this week. Sparky is not feral, but he is extremely shy and untrusting of people. Actually, he was untrusting of dogs, too, when he first came here, but once introduced ended up being very social with dogs. He is part of a bonded pair of littermates that we rescued from a South Texas shelter. I think they were puppy mill dogs. Both beautiful blue merle Mini Aussies, but they were in very poor shape. They were severely underweight with horrible coats, and were eating their own feces when we first rescued them, something that starved dogs will often learn to do. Although Skippy is the sweetest, friendliest little dog you've ever seen, Sparky would avoid people at all costs. Indoors, I would have to corner and catch Sparky to crate him at night. He wouldn't allow us to pet or handle him. I decided to send Skippy to a foster home to see if Sparky might open up when he wasn't able to depend on his brother for security, but that did not work out. Instead, Sparky would get out in our large yard and refuse to come indoors. He spent many nights outside in cold weather, and I had to feed him outside. We brought Skippy back, and after they reunited, Sparky is now opening up more and more. I made the decision to not allow him back into the yard, because our yard is 1 acre fenced and it's too much room for a scared dog to avoid me. Instead, he only went out on leash, and we took Skippy along with us. After about a week of Sparky going out on leash, sleeping in a crate, and staying indoors during the day, and having his super friendly brother Skippy to look to for direction, Sparky really started to come out of his shell. He started coming upstairs to my office and hanging out while I worked, he started approaching me for petting and standing still for a short time and allowing affection, and he started following me around the house. I was doing a deep cleaning of one of the downstairs rooms Friday, and Sparky spent the whole day in there keeping me company, and enjoying the continuous petting and affection he was getting. I no longer have to take him out on a leash; I can let him out in the yard again without worrying that he won't come back inside. He has his favorite crate that he often puts himself into during the day to nap, or he may just lay in the middle of the floor. He's so much more comfortable and he is SUCH a loving little guy. He just wasn't trusting. I may have to go through a process with his adopter when that time comes, but I feel so much better about him now and am very optimistic about his future. I still don't want to split the boys up, because I've never seen two dogs love each other like these guys do. They even share a crate and sleep on top of each other. They need to remain together. But with a little more work, Sparky might be as friendly as Skippy, and with their small 23 pound size, who wouldn't want two adorable little guys like this? They are precious, and their combined size is still smaller than some standard sized Aussies.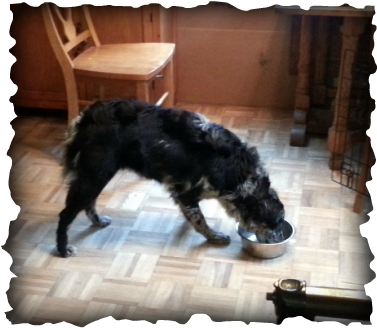 PepperAnn is the "somewhere in between" dog. Actually, she's feral too, just not to the extreme that Laredo is, but she is definitely not adoptable. PepperAnn was also rescued as a 4 month old puppy with her sibling Ranger. And like Laredo and Stella, Ranger socialized and is very adoptable while PepperAnn remained more feral. PepperAnn has been here about 8 months now and we just can't seem to crack the code on this girl. She will come indoors to eat, most of the time. She will come indoors to sleep if it's very cold outside. But other than that, she prefers to be outdoors and will do her best to get back out there. When indoors, she gets on the sofa, and then just freezes when we approach her. This allows us to sit and pet her, but she's terrified. You can see it in her eyes. Her pupils dilate and her eyes become black, and she is frozen in fear. She has no aggression; I can pick her up if I need to, because she is frozen. I sometimes sit with her and put her partially in my lap, and just sit and pet her for an hour while watching TV. I pet her until I feel her body relax and her heart rate slow, and I know she's calming. With a feral, when you give physical contact, you cannot stop while they are in a fearful mode or it will be self-reinforcing for fear. If you are going to teach them to accept contact, you have to continue until you feel them relax and calm, and then stop. Never stop on a sour note. PepperAnn has been especially prone to avoidance the last couple of weeks. The problem we had with Sparky is that once Skippy was gone, he teamed up with PepperAnn, and then their fears played off of each other. That is not the two that need to be together. But remarkably, I think now that Sparky has improved, he is having a positive influence on PepperAnn rather than her having a negative influence on him. Today, PepperAnn came indoors for the first time in probably two weeks, because she ran in behind her buddy, Sparky. I was so happy! PepperAnn quickly found herself a crate to claim as a safe place away from me, but that's fine—she's in the house. I was able to get a new collar and tag on her, and give her monthly heartworm/flea prevention. And now, the PepperAnn Tough Love starts. We have to put her to the test to see if she will socialize more. We are going to have to push the limits with this girl, at least until she tells us she can't do it. So, next step is leash training. And like we did with Sparky, she won't have the opportunity to go back out in that great big yard and avoid us anymore. She will only go out on leash, and then come back into the house. Luckily, her brother Ranger is excellent on a leash now, because he's going to help us train her. They are still very bonded to each other and were in a crate together for a while today. So, as she learns to walk on a leash, she's going to have him alongside her helping to teach her. One thing about PepperAnn, she does love her groceries. She is very food motivated. For a job this big, though, little biscuits or training treats won't be enough. So I am in the process of cooking some pork cutlets, the same kind that Laredo was crazy about last night, to use for PepperAnn's training. We may not take more than 2 steps in the beginning of our leash training, but a step gets a treat. That's how we trained Ranger, using Angel as a lead dog for him, and he was leashed trained in 20 minutes. I don't expect PepperAnn to be a 20 minute dog, not at all. But we have to push her, and today is the day we begin. I hope to be able to post a positive update on her in the near future.
We didn't really plan to take on any of these "special" issues with these dogs, but that's what we got dealt. They are all good dogs. They are loving dogs, even if they are a little different. They might not ever be dog park potential, but I don't care for dog parks anyhow. I think somehow, humans are responsible for the condition all of these dogs came here in, whether from neglect or abuse. I just don't feel like we need to give up on them, any of them, including Laredo. I think they've already been let down. Once I looked them in the eye, I made an unspoken promise to them to love them and keep them safe, and that's what I will do. But I love them enough to try and socialize them, as much as they will allow, so that they can have happier lives. Seeing the look of fear removed from Laredo's eyes is probably the best reward I've gotten. These are our babies, and we love them.