Available Dogs
These are the dogs that we currently have available for adoption. If you don't find a dog that interests you today, check back often because we are taking in more dogs on a regular basis and we would love to help you find one that is perfect for your family.

Please keep in mind that we are not a shelter where you can visit dogs and go home with one that day. We are a home and family first, and a rescue secondly, and in order to maintain a family environment for the dogs, we are only able to offer visits after we have an approved adoption application from you. We put a great deal of effort into every dog that we rescue, sometimes driving several hours to rescue them and then spending a huge amount of time caring for them physically, training them, socializing them with other dogs, and teaching them house manners. We bring these dogs into our home, into our family, and in some cases, into our bed to sleep with us. They are our family, and we care deeply about every dog that comes into our rescue. For this reason, we are very particular about where our dogs go. We do not adopt on a first-come, first-serve basis, but instead adopt to the family who is the best match for that particular dog, ensuring a happy match.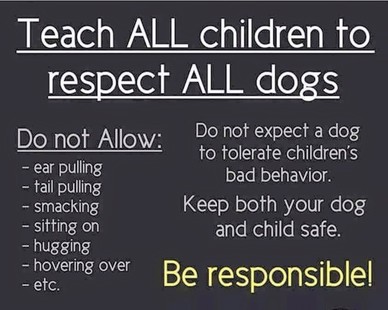 Adoption Requirements and Procedure:
We must have a reviewed, approved Adoption Application from you before scheduling a visit with the dogs.
You must have a securely fenced yard for your adopted dog. We do not adopt dogs to homes where they would be allowed to roam free on acreage. Our dogs are not ranch dogs, and they are not working dogs. They are companion pets. Most of the dogs that come into our rescue were stray and never reclaimed in the shelter, so they have already proven that they will not remain on property. This rule is for the safety of the dog.
Due to health concerns for young puppies, puppies under the age of 4 months can't be adopted to apartment homes where they could be exposed to canine viruses in the common areas of the complex. Puppies underage for spay/neuter are only available for local adoption, no out of state.
You must be able to travel here to meet and adopt your new dog. We do not ship dogs, and we want the opportunity to meet you in person before trusting you with one of our babies.
You must be ready to adopt when you apply, as we are unable to hold dogs. If you are not ready to adopt when applying, please let us know that in advance. We often have many good, qualified applications for the same dog, and if you are not ready to adopt at that time we will have to move on to an applicant who is. Although we are in no hurry to get our dogs adopted, every day that they are with us is a day that we can't save the life of another dog in need, so time and space is very valuable in rescue. Thank you for understanding.
| | |
| --- | --- |
| | If you are interested in adopting one of our dogs, please read our Adoption Policies and Procedures first. Then, download and submit the Adoption Application to the email address on the form. |

Charlee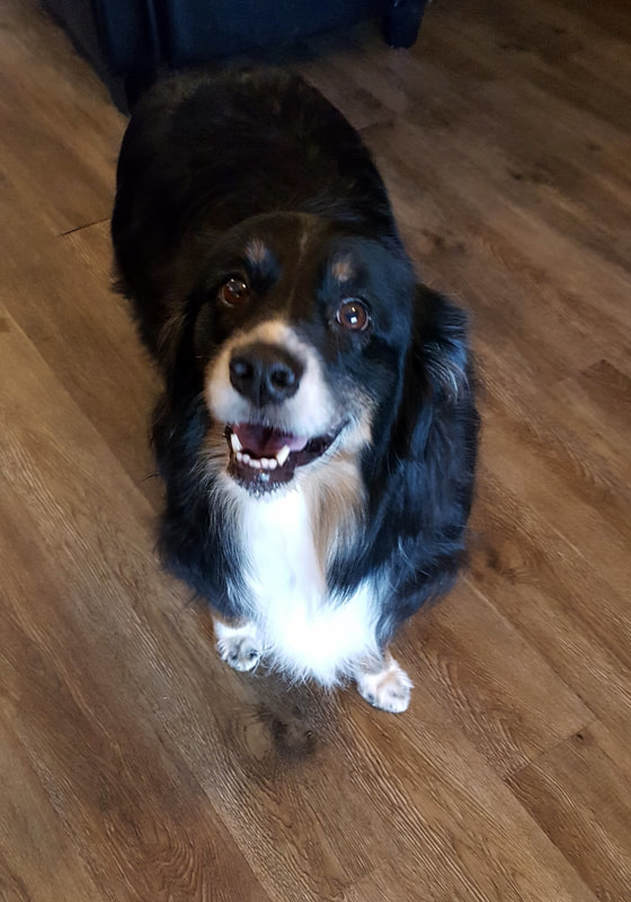 ​Charlee is a 7 year old purebred black tricolor Aussie weighing 48 pounds. He's not very tall, a bit more on the stocky lowrider side for an Aussie. Charlee is a perfect dog. Perfect! He gets along with other dogs, cats, and children. He loves playing ball and going for walks. He loves being petted and loved by his people, and when he's really excited he will wiggle his body into an adorable U-shape with excitement. Charlee is a very docile, submissive dog and is a bit on the shy side. He came from a very loving home where the other dog in the home started attacking him, so his family thought it was best for Charlee to rehome him, and he's just a bit confused about the whole thing. Therefore, we want Charlee to find a home with a quiet, patient family that will help him adjust and let him know that he will be safe and loved for the rest of his days. Charlee is such a nice dog indoors. He is housetrained, and does not have any bad habits like counter surfing or chewing inappropriate objects. He enjoys a soft dog bed, or cuddling in the bed with you if allowed. Charlee is neutered, is current on all vaccinations and heartworm preventatives, and is microchipped. He is available for a $350 adoption donation, and If you are interested in adding this handsome fellow to your family, please download an adoption application from our website and submit it to the email address on the form.
---
Clementine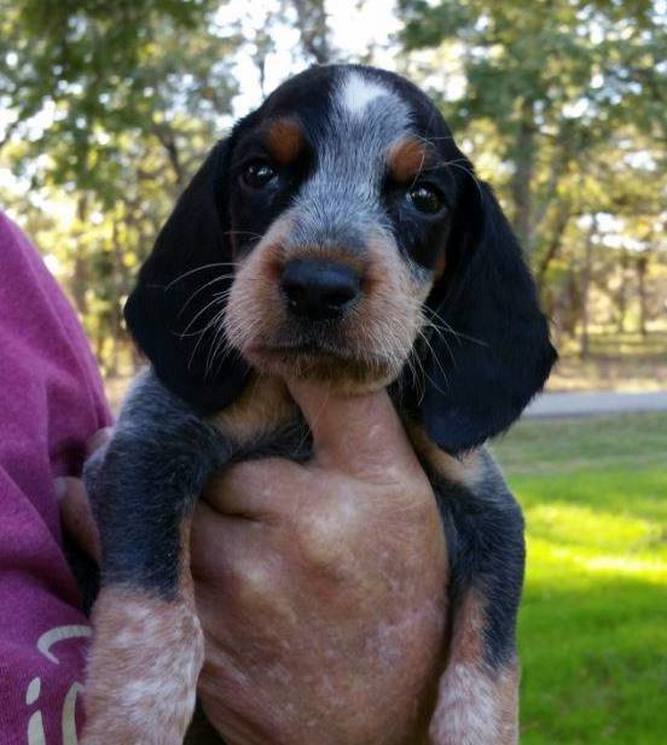 ​Clementine is a 7 week old purebred Bluetick Coonhound who loves to cuddle and snuggle. She is as sweet as she is beautiful. She is curious, alert, focused, and loves to follow her people around. She also loves the other dogs and will follow them around asking to be played with. She likes stuffed animals and enjoys carrying them around in her mouth, and she likes balls and bats them around the room with her little front paws. Clementine is not very vocal yet, but being a hound, you can probably expect that at some point in the future. Clementine comes from a strong hunting background, so if you plan to have her cohabitate with cats, chickens, or any other small animals, you will need to be diligent about that training with her from the very start. We would love to see Clementine go to a home with at least one other dog, as she's a very social girl, and we think she would make a great family dog for a home with older children. Clementine has received all age-appropriate vaccinations, multiple dewormings, has been started on heartworm prevention, and is microchipped. She will be available after November 1st when she is 8 weeks old for a $250 adoption donation with an additional $75 Spay Deposit to be refunded upon proof of spaying at 6 months old. If you are interested in adding this sweetheart to your family, please download an adoption application from our website and submit it to the email address on the form.
---
Peaches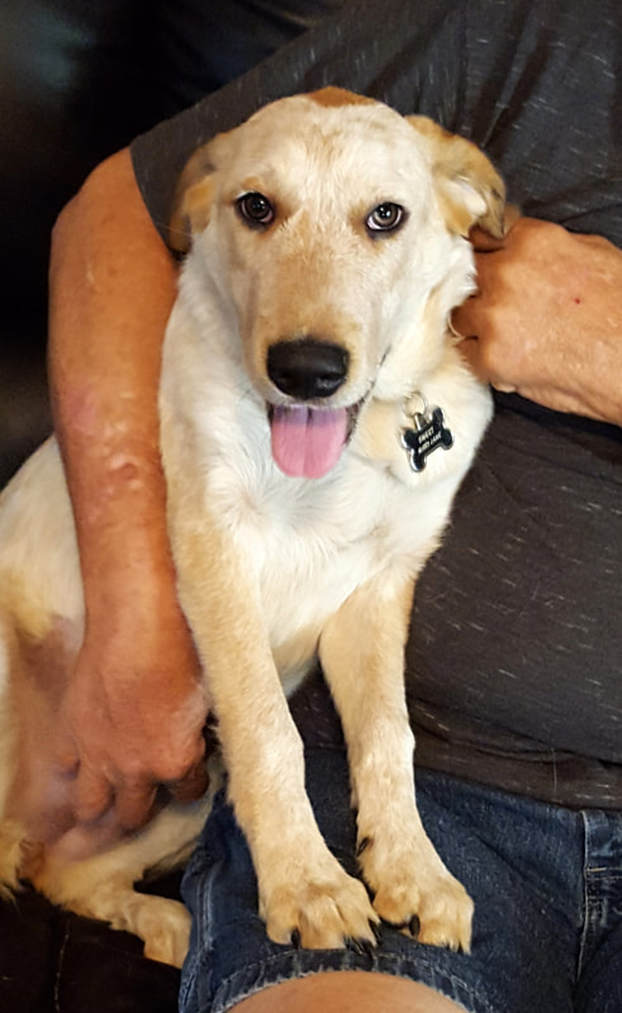 ​Peaches is a 6 month old Cattle Dog/Hound mix. She has a beautiful red ticked coat, green specks in one eye, and she weighs 40 pounds, although she is a bit chunky and could use some additional exercise. She is a very sweet, submissive girl with tender feelings and she doesn't care for loud, sharp noises or a raised voice. We have known Peaches her whole life and know that she's never been subjected to abuse; she just has a very sensitive nature. She is friendly and gentle, loves other dogs and is also loving and gentle to the cat. We think due to her sweet and more calm nature, Peaches would be a good fit for a home with older, compassionate children. She is crate trained and does very well sleeping in her crate at night, which is part of her ongoing housetraining. She loves to play with toys, likes walks on leash, and enjoys chasing after balls when you play with her. She has a wonderful personality and an adorable face. Peaches is spayed, is current on all vaccinations and heartworm preventatives, and is microchipped. She is available for a $300 adoption donation, and if you are interested in adding this girl to your family, please download an adoption application from our website and submit it to the email address on the form.
---
Tanner
Tanner is a 4 month old Catahoula mix puppy. We believe he's a Catahoula/Lab mix but he definitely has a lot of Catahoula traits, including his cute talking noises! Tanner currently weighs 25 pounds, and is very treat-oriented and is doing fantastic on his obedience training already. He is a loving, sweet, and playful boy. He sleeps in a crate at night, which is part of his ongoing potty training, and has not had one accident in his crate ever. In the morning, he happily runs outside to play and do his potty business while making his happy talking noises the whole way. He is great with other dogs, very playful and friendly, but we think his exuberant play style might be too much for very small dogs or cats in the home, but we think he would love some older children who would pay with him! Tanner has received all age-appropriate vaccinations, is microchipped, and has been started on flea and heartworm prevention, and will be neutered before adoption. He is available for a $300 adoption donation, and if you are interested in adopting Tanner, please download an adoption application from our website and submit it to the email address on the form.
---

Victory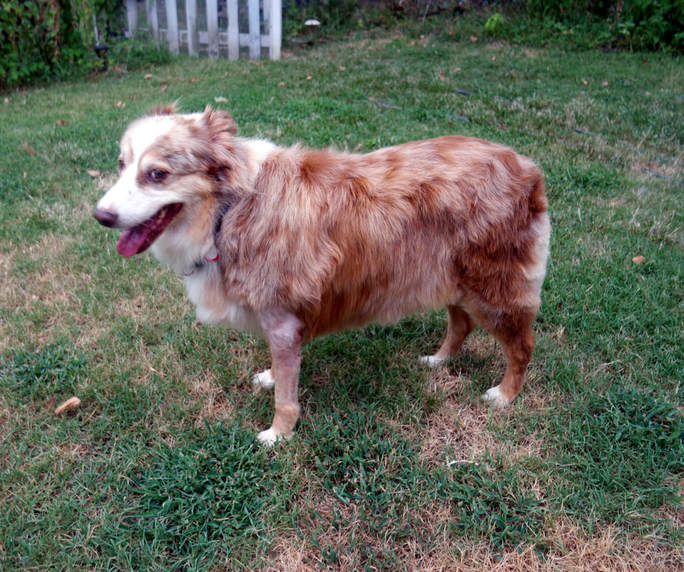 Victory is a sweet 7 year old red merle Australian Shepherd who was saved from a coyote attack in Willis, Texas. She had been roaming free for some time, being filthy and covered in mats. Unfortunately, she also had a very large tumor on her front leg that was removed, but found to be cancer. Our vet thinks he got all of the cancer, but it could come back at some point, so Victory needs a home where she can live out her remaining time, which we think will be several years at least. Her blood work was perfect and showed no signs of additional cancer, though. She is in great heath otherwise, heartworm negative, and has plenty of spirit and energy for a dog her age. She will even run occasionally when she's feeling a little frisky. Victory is known as Momma Bear here at the rescue, because she will not tolerate any misbehavior by the other dogs and will scold them when she thinks they are playing too rough. She is a mellow girl who doesn't play, but instead enjoys lounging in the house and being with her people. She will follow your every step, including to the restroom! She is completely housetrained and is a great off-leash dog, never wandering from her person. Due to the possibility that the cancer will return, we are waiving the adoption fee for Victory to an approved home who has both personal and vet references, and an adoption application and home visit will be required. Victory has been fully vaccinated, tested negative for heartworms, is microchipped, and is current on heartworm and flea prevention. If you would like to give this sweet girl a loving home to spend the rest of her days in, please download an adoption application and submit it to the email address on the form.
---

DOGS IN REHAB--Not Available
TBAR's Blaze of Glory, aka Glory
Glory is a precious red tricolor Australian Shepherd who came into the Dallas, Texas animal shelter at only 8 weeks old with multiple fractures in both back legs and her pelvis. She was unable to walk at all, yet still tried to drag herself around with her front legs. Although her pain must have been unbearable, she never once showed it, and continued to fight to have a normal life as a puppy. Multiple x-rays revealed that Glory's injuries were much worse than first imagined, caused from blunt force trauma that was suspected to have been caused from being kicked by a human. This awful abuse and the unstoppable spirit of this little girl made us determined to do everything in our power to help her walk again and have a normal life.

Glory was referred to the Dallas Veterinary Surgical Center where she had two surgeries. She has multiple implants and screws in both legs and her pelvis, and had a Femoral Head Osteotomy in the left leg where a portion of the bone is removed to eliminate the bone-on-bone rubbing which causes pain and lack of mobility. She stayed in the hospital for 10 days and went through the surgery and recovery well, but unfortunately is not able to use the right leg as of yet. She is, however, starting to walk a little using mainly her left leg. We have purchased a swimming pool and doggy life jacket and will be starting water therapy with Glory to help her regain the use of both legs. We are confident that she will one day be able to walk with both back legs, but if that is not the case, that she can have the right leg amputated and will live a happy life as a walking, playing tripod. But it is just too soon to make that determination.

Glory will have to have ongoing treatment for about a year, with follow up x-rays and possibly even additional surgery. In rare cases, the implants have to be removed. The surgeries that Glory underwent are largely successful, but due to her young age and the rapid rate of growth that she will experience, the future is unknown at this time. Due to this, we will not be placing Glory for adoption for 6 months to a year, until we can be assured that she is completely healed and will not need any further treatment.

---