Available Dogs
These are the dogs that we currently have available for adoption. If you don't find a dog that interests you today, check back often because we are taking in more dogs on a regular basis and we would love to help you find one that is perfect for your family.

Please keep in mind that we are not a shelter where you can visit dogs and go home with one that day. We are a home and family first, and a rescue secondly, and in order to maintain a family environment for the dogs, we are only able to offer visits after we have an approved adoption application from you. We put a great deal of effort into every dog that we rescue, sometimes driving several hours to rescue them and then spending a huge amount of time caring for them physically, training them, socializing them with other dogs, and teaching them house manners. We bring these dogs into our home, into our family, and in some cases, into our bed to sleep with us. They are our family, and we care deeply about every dog that comes into our rescue. For this reason, we are very particular about where our dogs go. We do not adopt on a first-come, first-serve basis, but instead adopt to the family who is the best match for that particular dog, ensuring a happy match.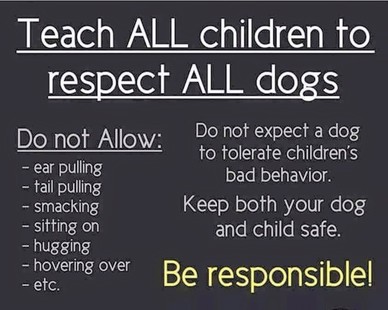 Adoption Requirements and Procedure:
We must have a reviewed, approved Adoption Application from you before scheduling a visit with the dogs.
You must have a securely fenced yard for your adopted dog. We do not adopt dogs to homes where they would be allowed to roam free on acreage. Our dogs are not ranch dogs, and they are not working dogs. They are companion pets. Most of the dogs that come into our rescue were stray and never reclaimed in the shelter, so they have already proven that they will not remain on property. This rule is for the safety of the dog.
Due to health concerns for young puppies, puppies under the age of 4 months can't be adopted to apartment homes where they could be exposed to canine viruses in the common areas of the complex. Puppies underage for spay/neuter are only available for local adoption, no out of state.
You must be able to travel here to meet and adopt your new dog. We do not ship dogs, and we want the opportunity to meet you in person before trusting you with one of our babies.
You must be ready to adopt when you apply, as we are unable to hold dogs. If you are not ready to adopt when applying, please let us know that in advance. We often have many good, qualified applications for the same dog, and if you are not ready to adopt at that time we will have to move on to an applicant who is. Although we are in no hurry to get our dogs adopted, every day that they are with us is a day that we can't save the life of another dog in need, so time and space is very valuable in rescue. Thank you for understanding.
| | |
| --- | --- |
| | If you are interested in adopting one of our dogs, please read our Adoption Policies and Procedures first. Then, download and submit the Adoption Application to the email address on the form. |

Dusty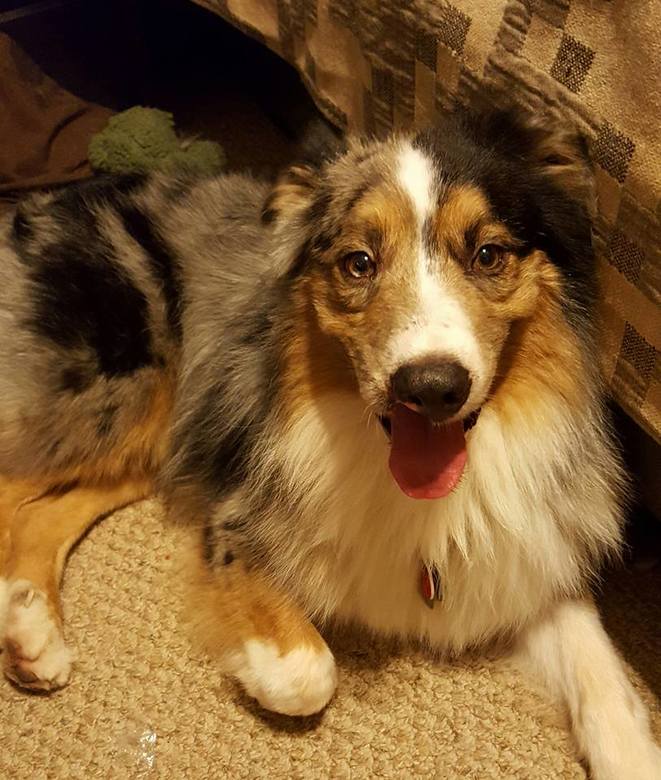 PLEASE READ THOROUGHLY as Dusty is looking for a very specific home that will be the perfect match.
Dusty is a 2 year old blue merle Australian Shepherd with a natural bob tail, that cute tail that's just a bit longer and looks like a feather duster. He's a larger sized Aussie weighing 51 pounds. Dusty was rescued from the Odessa shelter after being surrendered for chasing livestock. Dusty does not have an aggressive bone in his body, but the fact is, he loves to run! He runs like the wind and will engage any dogs in a great game of chase. Indoors, he can usually be found lying in the floor at my feet while I'm working on the computer. Dusty has an old injury to his face that we believe may have been from being kicked by livestock. We have had it examined and it has healed fine. Dusty has undergone a dental cleaning with a couple of extractions just to make sure the injury didn't give him any problems with his teeth. Now, about Dusty.
The Cons
Dusty does have some separation anxiety. Even if home with other dogs, he becomes very nervous when his people are away and can sometimes get into trouble, or even make himself sick with nervousness. Dusty needs a home where someone is home almost all the time, or where they can take him to Doggy Daycare or alternative care of that sort when they can't be with him.
Dusty is athletic and friendly, and can jump a 3' fence to go visit neighbors, so a 6' fence is a requirement of his adoption.
Dusty is not suitable for apartment living, not now or at any time in the future. He needs a family who can commit to that for him.
The Pros
Dusty is a completely loyal, obedient, loving dog without a cross bone in his body. He is playful and submissive to other dogs, male and female.
Dusty loves walks, is great on a leash and LOVES car rides and will hop right in for you. He's great to take everywhere with you.
Dusty is a great off-leash dog. You can easily take him out walking in familiar surroundings and call him to stay near you once you've bonded.
Dusty is housetrained, crate trained, knows Sit, Shake, and has endless potential for learning anything you want to teach him. He is friendly and social and would enjoy group training.
Dusty really loves other dogs, and the more the other dog loves to run, the better. He would like to have at least one dog buddy in his new home.
Dusty is GREAT with children. He would love some children in his life.
Dusty has had too many changes so far in his life, being uprooted a couple of times. We want to make sure that his next home will be his forever home. He is one of the most wonderful dogs you will ever come across. Dusty is fully vaccinated, neutered, microchipped, has tested negative for heartworms, and is current on heartworm and flea prevention. He is available for a $350 adoption donation, and if interested please download an application from www.twistedbranchaussies.com and send it to the email address on the top of the form.
---
Nash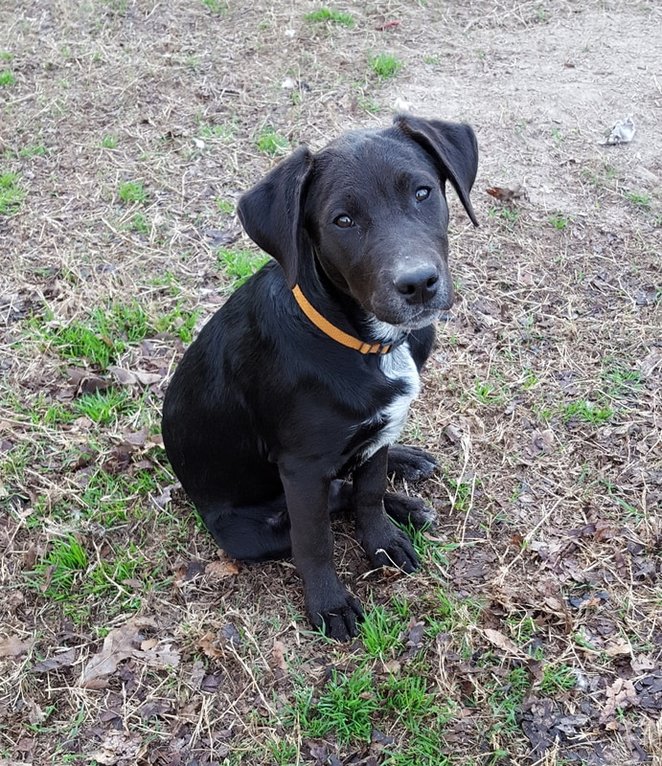 Nash is a 4 month Lab/Heeler mix boy. The only reason we know he is a Heeler mix is because he was born here at the rescue by his Heeler mom, Savannah. Otherwise he looks completely like the Lab that his dad must have been, other than the beautiful blue ticking on his chest and chin that he got from his mommy. Nash is very outgoing, friendly, and loveable, and just a little bit spunky. He's probably going to be smaller in size than your average Lab, but only in size and not in personality. Nash was the first puppy born from his litter and he struggled to survive for the first few minutes, but he was a fighter and bounced back, and he shows that strong spirit today. He responds well to training and a regular routine, and would be best in a home with an older dog. Nash is doing fantastic on his housetraining and socialization as well as his obedience training. He has received all 4 of his parvo/distemper vaccinations, bordetella vaccination, he is microchipped, and has been started on heartworm and flea preventative. He is available for a $250 adoption donation on a Neuter Contract that requires his adopter has him neutered by 7 months of age. If interested in Nash, please download an adoption application from our website and submit it to the email address on the form.
---
Pandora
​Pandora is a one year old Aussie/Lab mix, looking mostly like a Lab but with an adorable Aussie bobbed tail. She's a medium sized girl at only 45 pounds. Pandora is a bundle of happiness! Like any Aussie, she needs lots of exercise and play time to be happy. Pandora is a great walking and running companion, but her favorite thing is fetch. This dog is ball crazy! She will run until she's falling down tired. She also loves to chew on antlers, bones, and hard Kong toys and can entertain herself for hours with a good chew toy. Pandora had a rather rough start in life and did not get the love and attention that she deserves, so she is going to need an adopter who is understanding and patient with her and will give Pandora time to trust. She can be fearful at first and needs time to warm up to new people, but once she knows she is safe she will love you with her whole heart. She gets along well with other dogs and loves to play, but she is not suitable for a family with small children. Pandora still has a lot of puppy in her and has all of that floppy, loving puppy joy to give. She has been fully vaccinated, spayed, tested negative for heartworms, and is current on heartworm and flea preventatives. She is available for a $250 adoption donation, and if you would like to add this sweet, happy dog to your family, please download an adoption application from our website, www.twistedbranchaussies.com, and submit it to the email address on the form.
---
Puddin'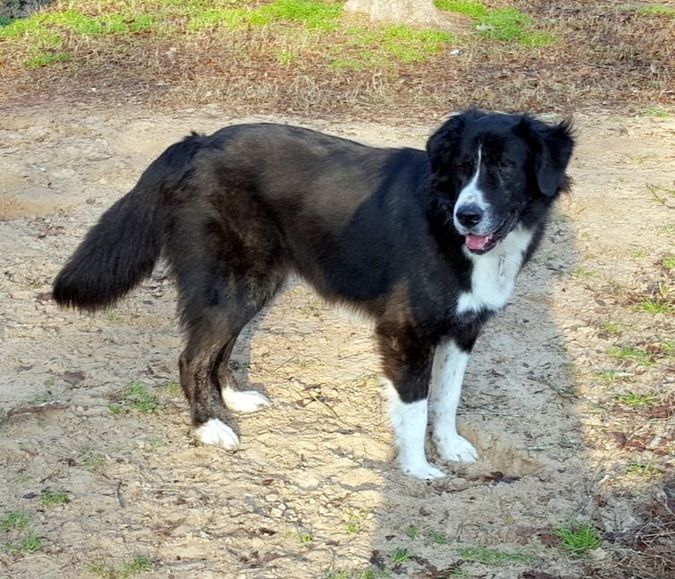 Puddin' is a 5 year old English Shepherd, and she is one of the calmest and most gentle dogs you will ever meet. She is a large lady at 75 pounds with a slight brindle coloring to her coat. Puddin' lost an eye at some point in her past, surgically removed, and we do not know the story behind that but it does not affect her mobility in any way. This girl is a total love and will come stand beside you and patiently wait for her turn to be petted. She is exceptional with every dog here at the rescue, and they really like her because of her easy going demeanor. She is friendly with people, would be gentle with children, and we would even trust her in a home with a cat. Puddin' is so friendly that she will sometimes hop over our chainlink fence and go visiting neighbors, so a 6' fence will be a requirement of her adoption. She's great on a leash, enjoys car rides and will hop right in for you, and she is housetrained. She does not sleep in a crate and prefers to sleep in the floor beside your bed….unless she gets the invitation to get in the bed, which she adores. She very rarely barks, but when she does, it is a resounding big dog bark that echoes. Puddin' loves to play outside and enjoys playing in the kiddy pool that we have set up. Indoors, she will usually be lying close to wherever you are, quiet as a mouse. When you look at her, her tail starts wagging. Puddin' has been fully vaccinated, is microchipped, tested negative for heartworms, and is current on heartworm and flea preventative. Puddin' is available for a $300 adoption donation, and if interested please download an application and submit it to the email address at the top of the form.
---
Rudy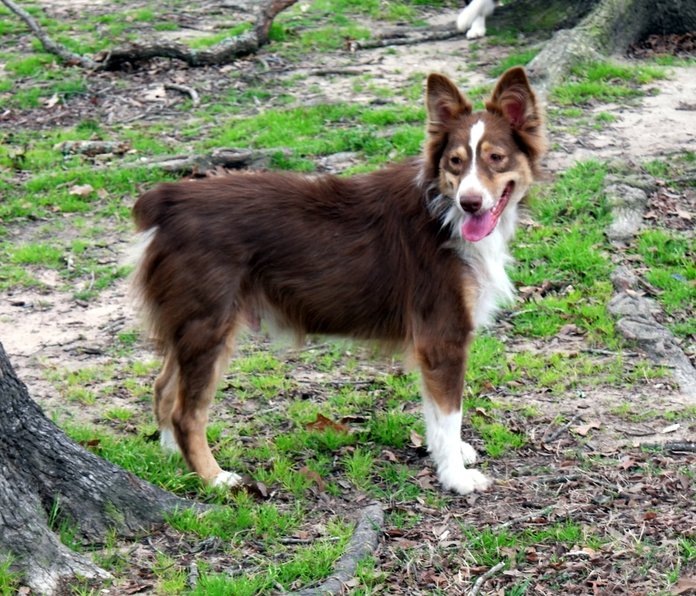 Rudy is a 1-1/2 year old red tri Aussie boy with a cute little bobbed tail and adorable standing ears. This little guy is just loads of fun! Rudy is very friendly and playful with other dogs but can annoy some dogs because he likes to jump on them in play, so he would do best with an easy going dog. Rudy wants to run and play all day long. He loves to play ball and play fetch, and he does show a lot of interest in the Frisbee. Rudy also likes to play in water, and will run and jump into the kiddy pool anytime the weather permits. He's just got a wonderfully happy personality. Rudy is a smaller guy, probably only around 18" tall and he weighs 40 pounds. He's bigger than a Mini, but smaller than your average Aussie male. This boy is going to need a very active home, and isn't suitable for apartment living with his high energy. We do not know how Rudy would do around cats, but we don't think his energy level and constant desire to play would be well tolerated by most cats. When indoors, Rudy likes to hang out with the family and…..PLAY, what else! He loves toys and will grab the first squeaky toy he can find and carry it all around the house, only dropping it to exchange for another. Rudy is good on a leash, is crate trained and housetrained. He has been fully vaccinated, neutered, is microchipped, tested negative for heartworms, and is current on heartworm and flea preventative. He is available for a $350 adoption donation, and If you are interested in this fantastic little bundle of love, please download the adoption application from our website and submit it to the email address at the top of the form.
---
Savannah
Savannah is a 3 year old Australian Cattle Dog with an adorable bobbed tail. She weighs 42 pounds but you would never guess her to be that heavy because she has a small frame, but she's all muscle. This girl is some kind of athletic! Savannah can run like the wind, and she can easily scale a chain link fence without even touching it. We see a lot of working instinct in her, as she will often herd the other dogs when they are in the yard playing or walking outside off-leash with us. She is great with every dog she has met, and she's nice to the cat when they meet face to face but otherwise wants to chase the cat when she sees him. She's a gentle dog so I don't think she would hurt a cat, but would probably annoy them. Savannah came to us VERY pregnant, when a friend found her wandering stray, took her in and then found rescue for her. She blessed us with nine beautiful puppies a week later and was an exceptional mother, but now it's her turn to be someone's baby. She has a very sweet, demure personality other than when she's being frisky and playing with other dogs and then she gets a little rambunctious, but never plays too rough. She is very obedient and can be trusted off-leash with you after a period of time. She sleeps in a crate at night and will go into it when asked, and does not have accidents in her crate at night but needs continued reinforcement on her potty training during the day. Savannah has now been spayed, is fully vaccinated, tested negative for heartworms, is microchipped, and is current on heartworm and flea preventatives. She is available for a $300 adoption donation and a 6' or taller fence is a requirement of her adoption. If interested in this gorgeous, sweet girl, please download an adoption application from our website and submit it to the email address at the top of the form.
---

DOGS IN REHAB--Not available
THE THREE AMIGOS--Cisco, Pancho, and Rosa

​These three gorgeous Mini Aussie siblings were dumped in a rural area, and it was caught on camera. Poor Pancho and Rosa actually ran after the trailer as it pulled away, abandoning the dogs. They remained in the area where they were dumped until Animal Control could capture them using humane traps. Pancho and Rosa were caught in just a day or two, but it took four long days to capture Cisco. Rosa is the friendliest, very wiggly and happy, and Pancho is friendly after he has had some time to warm up to you. Cisco is very fearful, and will need a good period of time to come out of his shell and socialize before he is ever available for adoption. They are all very nice with other dogs, so we will use our other dogs to help bring them out of their shells.

We are not accepting applications for these three dogs at this time.
---
Cisco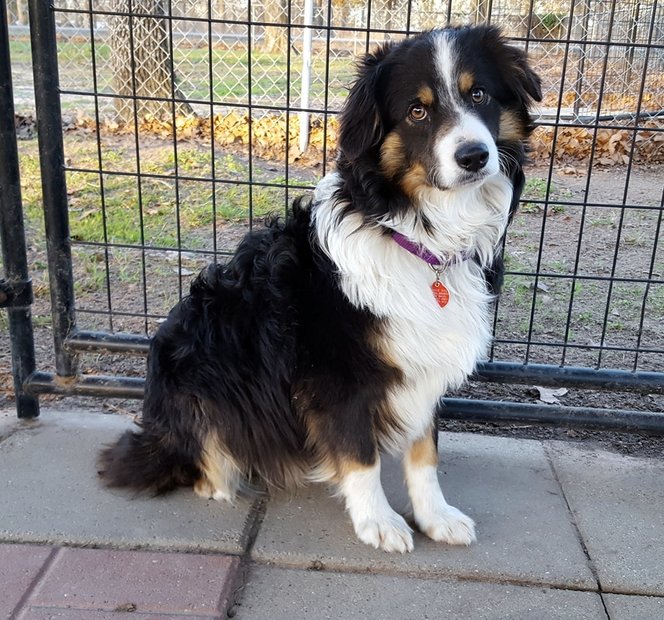 Cisco is a 1-1/2 year old Mini Aussie boy with a sad past. Cisco was dumped with his two siblings in a rural town, and the local animal control spent 4 days trying to capture them in humane traps before they could get all of the dogs to safety. Cisco is extremely frightened at this point and is not adoptable at this time. He retreats and would rather avoid people. Over a period of about 3 days, I have been able to make great progress with him but it will be a very slow process, so we can't even estimate how long his rehabilitation will be at this point. Once we are able to introduce him to our other dogs he will probably open up more, because he dances and squeals with delight when he sees them in the yard. He wants to meet them! With me, he dances when I approach him but if I get more than about 4' away he retreats. But we are becoming friends and I've even been getting some little kisses from him in the last day or so. He's a very sweet little boy who needs to learn that there are loving people in this world that will treat him well. We're excited for the opportunity to watch him blossom.
---
Pancho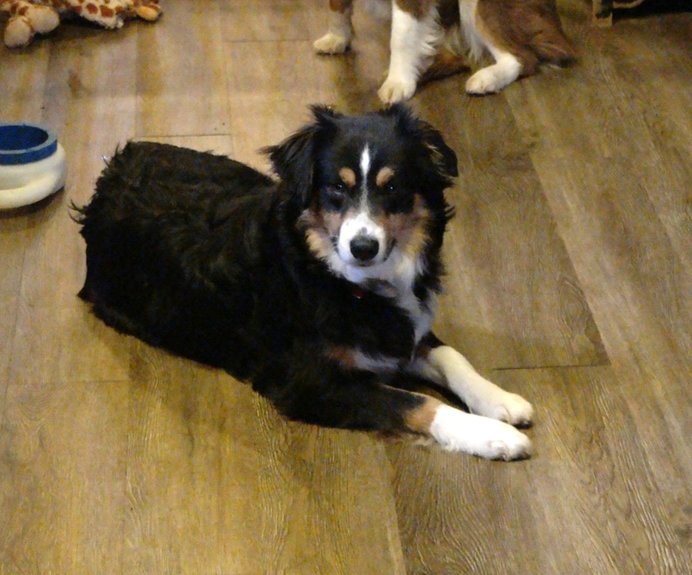 Pancho is a 1-1/2 year old black tricolor Mini Aussie male. He is also very shy but shows a lot of promise. Pancho loves other dogs and loves treats, and is making good progress since he arrived here at the rescue. He has learned to Sit for a treat, and that's a good sign. Next he will learn how to walk on a leash, and how to sleep in a crate at night. Pancho has been through some very upsetting changes in the last month or so, so it's going to take a special person to adopt him, someone who will give him the time he needs to continue to socialize and become a happy, brave dog. We will update more as we get to know him.
---
Rosa
Rosa is a 1-1/2 year old red tricolor Mini Aussie female. She is the smallest of the three siblings, and is also the friendliest. Rosa has beautiful golden eyes that seem to speak to you when you look at her. She absolutely adores other dogs and seems to have a crush on our boy, Ranger. She dances with delight when she sees other dogs, and when she's happy she wiggles from head to her pretty little bobbed tail. Rosa still needs a good deal of work, like her brothers, and needs to learn everything about being a beloved family pet. That includes leash training, crate training, and potty training. But she is very loving a treat motivated, and has already started learning Sit for treats. These three sweet babies got a rotten deal out of life so far, but we are thrilled to be the ones to help turn that around for them. We can't wait to be able to post happy updates of Rosa's progress, as well as that of her brothers Cisco and Pancho.
---
Leash Training--Pancho and Rosa are walking on leash now! We're so proud of them. Cisco will take a little more time, though. But we're hoping that Pancho and Rosa can help with Cisco's training when he's ready.
Taffy
Taffy is a 3 year old red tri Australian Shepherd that we recently rescued from the Henderson, Texas animal shelter. She has an adorable docked tail and….surprise! a tummy full of puppies. We had no idea Taffy was pregnant until our volunteer arrived at the shelter, but maybe we were meant to get her since we are set up for puppies. It seems we have radar for the wayward moms.  We had Taffy examined by our vet and x-rays revealed that she's got at least 8 puppies and maybe more! Unfortunately, Taffy is also heartworm positive so she will need to have treatment after she has weaned the puppies and recuperated. She is an amazingly sweet and loving dog and we are glad we get to help her have her babies in a safe and loving environment. We are counting the days, but guessing she will give birth in the first week of February. We can't wait to share the joy!

Between the puppy weaning and the heartworm treatment, Taffy will be with us for at least 6 months so we will not be accepting applications for her.
---
Puppies are here!!!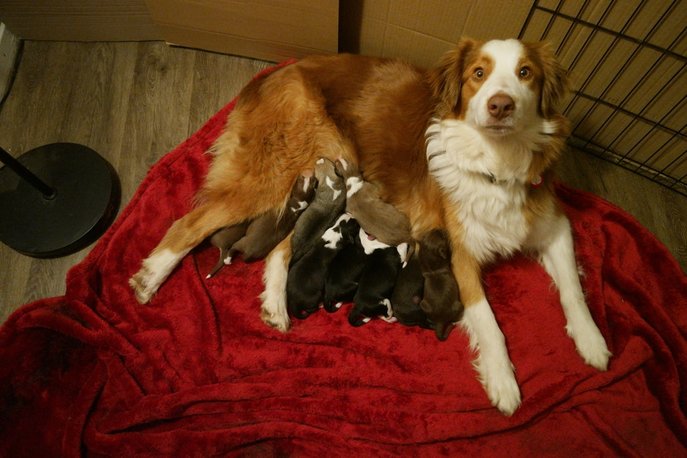 On February 2, 2017, Taffy gave birth to nine gorgeous, healthy little babies. We won't be certain for a few weeks, but so far it looks like Daddy may have been a Border Collie. There are two red tricolor, two red & white, two black & white, one black tricolor, one sable, and one that we call "mink" colored because it's somewhere in between brown and black. Mommy and pups are all doing fantastic! Puppies will be available after April 1st.
---