Available Dogs
These are the dogs that we currently have available for adoption. If you don't find a dog that interests you today, check back often because we are taking in more dogs on a regular basis and we would love to help you find one that is perfect for your family.

Please keep in mind that we are not a shelter where you can visit dogs and go home with one that day. We are a home and family first, and a rescue secondly, and in order to maintain a family environment for the dogs, we are only able to offer visits after we have an approved adoption application from you. We put a great deal of effort into every dog that we rescue, sometimes driving several hours to rescue them and then spending a huge amount of time caring for them physically, training them, socializing them with other dogs, and teaching them house manners. We bring these dogs into our home, into our family, and in some cases, into our bed to sleep with us. They are our family, and we care deeply about every dog that comes into our rescue. For this reason, we are very particular about where our dogs go. We do not adopt on a first-come, first-serve basis, but instead adopt to the family who is the best match for that particular dog, ensuring a happy match.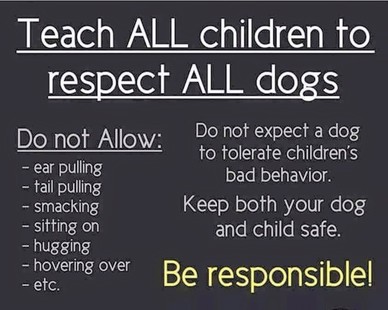 Adoption Requirements and Procedure:
We must have a reviewed, approved Adoption Application from you before scheduling a visit with the dogs.
You must have a securely fenced yard for your adopted dog. We do not adopt dogs to homes where they would be allowed to roam free on acreage. Our dogs are not ranch dogs, and they are not working dogs. They are companion pets. Most of the dogs that come into our rescue were stray and never reclaimed in the shelter, so they have already proven that they will not remain on property. This rule is for the safety of the dog.
Due to health concerns for young puppies, puppies under the age of 4 months can't be adopted to apartment homes where they could be exposed to canine viruses in the common areas of the complex. Puppies underage for spay/neuter are only available for local adoption, no out of state.
You must be able to travel here to meet and adopt your new dog. We do not ship dogs, and we want the opportunity to meet you in person before trusting you with one of our babies.
You must be ready to adopt when you apply, as we are unable to hold dogs. If you are not ready to adopt when applying, please let us know that in advance. We often have many good, qualified applications for the same dog, and if you are not ready to adopt at that time we will have to move on to an applicant who is. Although we are in no hurry to get our dogs adopted, every day that they are with us is a day that we can't save the life of another dog in need, so time and space is very valuable in rescue. Thank you for understanding.
| | |
| --- | --- |
| | If you are interested in adopting one of our dogs, please read our Adoption Policies and Procedures first. Then, download and submit the Adoption Application to the email address on the form. |

Brandy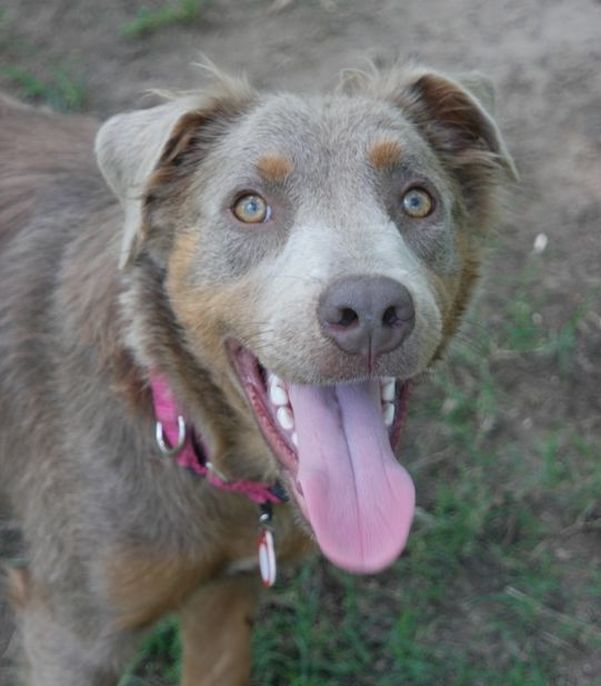 Is this not the most unique girl you've ever seen? This is Brandy, and she is a one year old Aussie mix. Her coloring is Red Dilute, which is a red tricolor with the dilute gene. Dilute works on red or black dogs to make them look faded or in Brandy's case, almost violet. She looks very different depending on the lighting she is in. Indoors she looks more red tricolor, but when the outdoor light hits her, she shines a gorgeous lavender blue. Brandy is one of the happiest dogs on the planet. She is very sweet, loves to play, and just lives every day like it's the best day of her life. She gets along with every single dog she's met, and she has a special love for puppies, being very gentle and tolerant of them. Brandy seems to be housetrained, never having an accident indoors and going outside as soon as she wakes up in the morning. She is crate trained and goes into her crate at night, where she sleeps quietly without a fuss. She loves to walk on a leash, and will often beg to go with you when she sees you taking other dogs for a walk. She also enjoys car rides, and will spend the entire trip standing and looking out the window. Brandy is a young dog and we expect her coat to become more long and lush as she matures and spends more time on a good diet, as Aussies don't usually get their adult coats until somewhere after a year old. She has been fully vaccinated, tested negative for heartworms, is microchipped, and is current on heartworm and flea prevention. She will be spayed before going to her new home, and is available for a $300 adoption donation. If you are interested in Brandy, please download an adoption application from our website and submit it to the email address on the form.
---
Pandora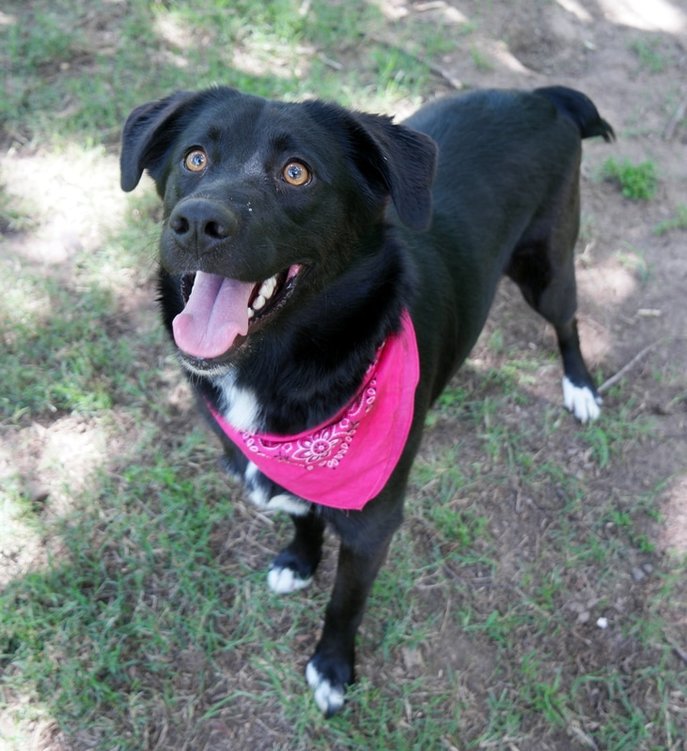 Pandora is a two year old Aussie/Lab mix, looking mostly like a Lab but with an adorable Aussie bobbed tail and more of an Aussie build. She's a medium sized girl at only 45 pounds, much more of an Aussie size than Lab size. Pandora is ball CRAZY and will play ball with you until you drop, very much like most Labs. She gets along well with all of the other dogs here, but is better with large dogs and those who are more Alpha, as her strong personality can intimidate some dogs. When indoors, she will be wherever you are, and will sometimes gently nudge you to let you know she's ready for some petting. She is housetrained and crate trained, and sleeps quietly in her crate until morning when she runs straight outside to take care of business. She's great on a leash, knows basic obedience commands, has wonderful house manners, and enjoys car rides. Pandora does have a strong prey drive which makes her unsuitable for a home with cats. She has been fully vaccinated, spayed, microchipped, tested negative for heartworms, and is current on heartworm and flea prevention. She is available for a $300 adoption donation, and if you are interested in adding this sweetheart to your family, please download an adoption application from our website, www.twistedbranchaussies.com, and submit it to the email address at the top of the form.
---
Peaches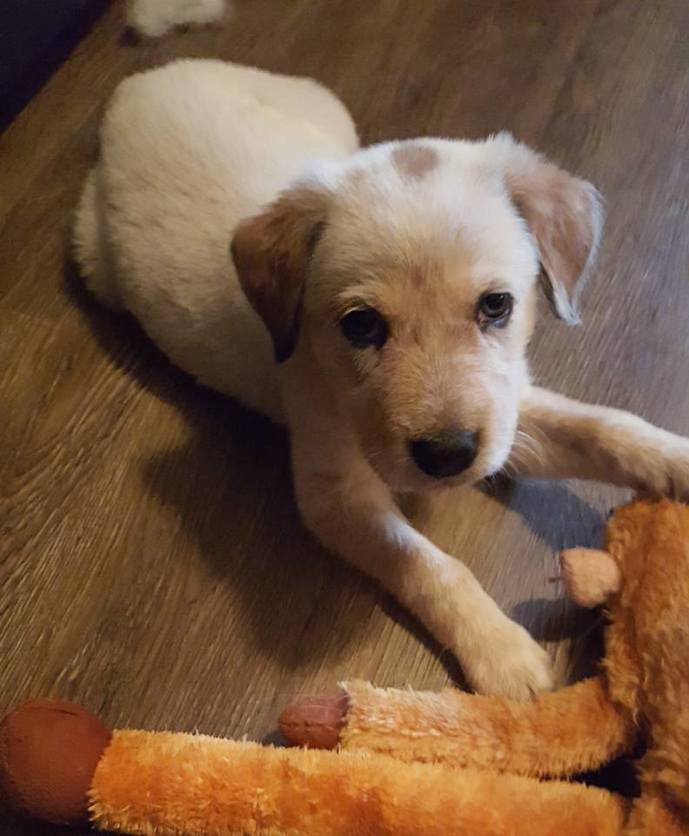 Peaches is a 7 week old Red Heeler (Australian Cattle Dog) and she is just the sweetest little baby. Her personality is very loving, demure, and gentle. Peaches is very smart and is already sleeping in a crate at night, and goes outdoors in the morning to potty in the yard. She will, of course, need continued potty training in her new home but we are trying to give her a great start on that. She loves the other dogs here and has one particular favorite that she follows around and sometimes naps with. Peaches is everything you could want in a little puppy—affectionate, curious, and adorable. She will be available for adoption after June 16th once she is 8 weeks old. She has been dewormed multiple times, has been microchipped, and will have 2 of her 4 puppy vaccinations at the time of adoption as well as being started on flea and heartworm prevention. She is available for a $250 adoption donation on a Spay Contract that requires that her adopter has her spayed when she is 6 months old. If you are interested in this cutie, please be sure to read our Adoption Policies first and then download an adoption application and submit it to the email address on the form.
---
Rhett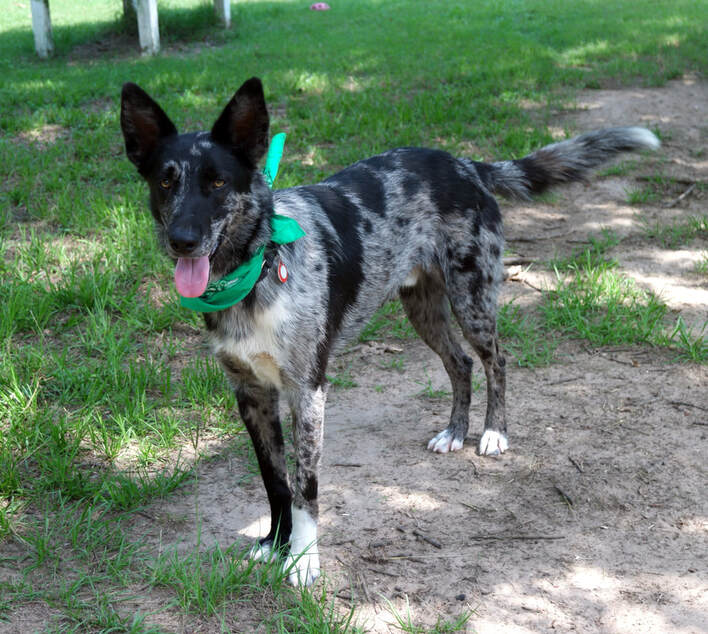 This stunning boy is Rhett, and he is a 1-1/2 year old Aussie/German Shepherd mix. Rhett is just one of the nicest dogs you will ever meet. He is gentle, loving, friendly with all dogs, intelligent and obedient. Rhett is housetrained and crate trained, and happily trots into his crate at night when asked with no problems, where he sleeps quietly until it's time to go outside in the morning. He is fantastic on a leash, and enjoys riding in the car. Rhett is the "never met a stranger" kind of dog that you can take everywhere with you. He does, however, require that you make him part of your family and does not enjoy being left outdoors, and will scratch at the door to let you know that he's had his fill of outside time. When in the house, he will 1) find any available dog food to eat, 2) play with any dogs who will engage him, and 3) come lay beside you to keep him company…..in that exact order. He's comical in his facial expressions and his play style and is really just a pleasure to be around. Rhett has been fully vaccinated, microchipped, neutered, tested negative for heartworms, and is current on heartworm and flea prevention. He is available for a $300 adoption donation, and if interested in Rhett the Magnificent, please download an adoption application from our website and submit it to the email address on the form.
---