Resources for Pet Owners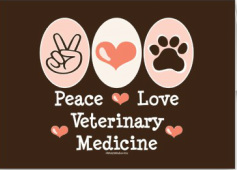 Part of what we do as a dog rescue organization extends beyond helping dogs. We want to also provide information to the general public that will help them take better care of the dogs they have, allowing them to live happier lives with their pets and in turn, reduce the number of unwanted animals in shelters. We hope you will find some of the following information useful.

---
Vaccinations

Your dogs need vaccinations on a regular basis to keep them healthy and disease-free. Below are general guidelines for vaccinations, but your veterinarian may have different requirements so always follow your vet's advice.


Rabies: Required by law every 3 years in the state of Texas, although individual counties can require it annually. Rabies vaccines should be given at 4 months of age, and then annually or ever 3 years as required in your county.


DAPPv2: This is a multi-drug vaccine that protects against distemper, adenovirus, parvovirus, and parainfluenza. Although it is not required by law, it is important that your dog have this to protect him against these viruses. There are an increasing number of dogs contracting parvo, even adult dogs. Although more common in puppies, our veterinarian has treated a dog as old as 8 years old for parvovirus so it is important to make sure you follow the proper vaccination schedule. Puppies should be vaccinated at 8 weeks of age with this vaccine, and every 3 weeks thereafter until they have received a total of 4 vaccines. Adult dogs should be vaccinated once annually after that and every 2-3 years thereafter as recommended by your vet, but only if they received the

Bordatella: If your dog is going to be going to a dog park, groomer, or boarding, they are going to require that he has a Bordetella vaccine. It is a nasal spray vaccine and sometimes will include canine parainfluenza vaccine as well. Bordetella or Kennel Cough is the most commonly transmitted virus among dogs.

Leptospirosis: This vaccine is sometimes combined with DAPPv2 above, in which case the vaccine will be DLPPv2. Leptospirosis is a deadly virus transmitted by wild animals such as possums and raccoons. If you live in a rural area where your dog may have contact to ponds and streams where wildlife frequent, you should consider adding this vaccine to your dog's annual vaccination routine.


Lyme: Lyme disease is carried by ticks, and dogs who live in areas with heavy tick infestations are candidates for the Lyme disease vaccine. The Lyme vaccine should be administered annually along with your dog's other vaccinations.

Heartworm Preventative

Your dog needs to be on a heartworm and parasite preventative of some sort for the rest of his lifetime. Here are some options.

HeartGard, TriHeart (ivermectin): The University of Washington states that the amount of ivermectin in a monthly preventative dosage is not dangerous to dogs that may carry the MDR1 gene mutation, so we feel it is safe for Aussies. HeartGard will kill any immature heartworms and prevent them from developing into adults. It also prevents several types of intestinal parasites.

Trifexis (spinosad + milbemycin oxime): This product prevents heartworms and some types of internal parasites, and prevents fleas as well, in one monthly chewable tablet.

Interceptor (milbemycin oxime): This has the same heartworm preventative as Trifexis, but no flea control. It comes in a soft chewable tablet.


Heartworm Treatment


There are two forms of treatment for heartworms. The traditional method is known as Fast-Kill Treatment, and the alternative method now being used is the Slow-Kill Treatment. Except in rare circumstances, our rescue uses the Slow-Kill method of treatment with all of the heartworm positive dogs in our rescue. Approximately 60% of the dogs we rescue will test positive for heartworms, and the slow-kill method is not only easier for the dog to withstand but it allows him to be adopted into a permanent home while undergoing treatment.


Fast-Kill (Traditional) Treatment: The dog receives Immiticide injections into the muscles of his back for two days in a row and is sent home. He is required to have complete rest, crated from all activity, for 30 days. When the Immiticide is administered it causes all of the heartworms to die at once, and they move into the blood vessels of the lungs as they die. This is known as embolization. The body will gradually reroute the blood from these blocked vessels into other vessels, but it takes time for this to happen. If, during this time, the dog happens to exert himself, the heart would pump blood out at a fast rate and with nowhere to go, the blood would bounce back into the heart and cause instant death. This treatment requires complete inactivity, and is also hard on the liver and other organs of the dog.


Slow-Kill (Alternative) Treatment: The slow-kill method of treatment kills the heartworms off gradually over the course of a year, sometimes a little longer, without the mass embolism of dying heartworms that you have with the traditional treatment. Because of this, you do not have to restrict the dog's activities during treatment. The dog receives a monthly dose of HeartGard for both prevention of heartworms and to kill the immature worms, and he also receives Doxycycline for 3 weeks every calendar quarter. The doxycycline affects a host parasite that lives on the adult heartworm and prevents it from reproducing, while the HeartGard kills the immature worms. The adult heartworms die off gradually, and after one year on this treatment, the majority of dogs will be heartworm free.

Low Cost Veterinary Services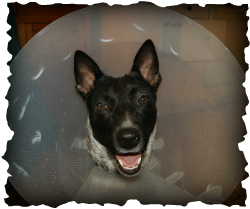 Angel, rocking the cone. We told her it was a tiara.
Keeping your dog in good health can be expensive. Often times people think they can't afford to provide all of the vaccinations and monthly preventatives that their dogs require to stay in good health. Below is a small list of affordable clinics in the North and East Texas areas that provide affordable veterinary care, and some have free programs for qualified residents. Spay/neuter!!!


Listed alphabetically by city.
---
Texas Coalition for Animal Protection

344 SW Wilshire Blvd., Suite E

Elks Plaza

Burleson, TX 76028

(817) 426-3777

http://www.texasforthem.org

Kaufman County Animal Awareness Project

102E Trunk Street

Crandall, TX 75114

(972) 472-3500

http://www.spayneuternet.org

SPCA--Myron K. Martin Spay/Neuter Clinic

2400 Lone Star Drive

Dallas, TX 75212

(214) 742-7722

http://www.spca.org

SPCA--Spay/Neuter Clinic at Village Fair

4830 Village Fair Drive

Dallas, TX 75224

(214) 742-7722

http://www.spca.org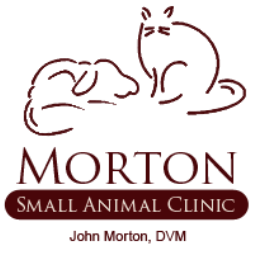 And here is our amazing vet clinic, Morton Small Animal Clinic. They take wonderful care of our dogs and we love them!
Morton Small Animal Clinic
1404 East Tyler Highway
Athens, TX 75751
(903) 675-5708
http://www.mortonsmallanimalclinic.com/
---
Nutrition
A good diet is the cornerstone of a well behaved dog. A dog performs best when he feels best. If your dog is unruly, hyper, and destructive, look at his diet. Is he eating a food that has lots of pretty colors in it? Because those foods are made to entice you, the consumer, and have dyes that can be making your dog behave badly. Put your dog on a good diet, add supplements for skin and coat, and watch him become a thing of beauty both inside and out. These are supplements that we use daily on all of our dogs, and we add a bit of homemade dog food into their morning kibble. If you would like more information on what is in your dog's food, or a listing of high quality foods, visit the link below.
http://www.dogfoodanalysis.com/dog_food_reviews/